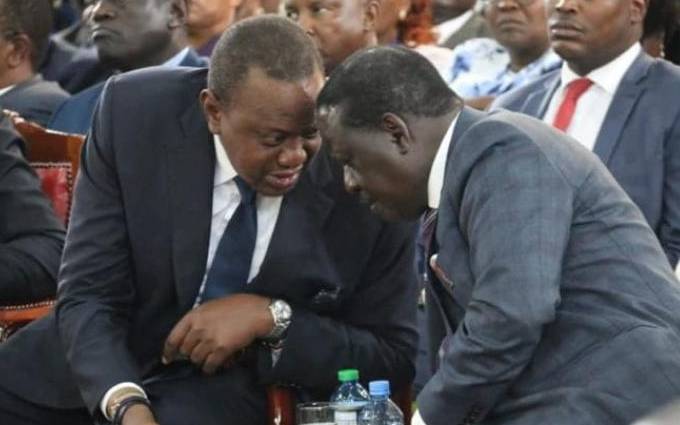 So many expectations have been pegged on the much-awaited Building Bridges Initiative or BBI report as it is popularly known. To a large extent, the March 9, 2018 handshake between President Uhuru Kenyatta and Raila Odinga (above) has brought stability and confidence in the country. One of the outcomes of the high stakes of the BBI process is doing away with periodic violence over elections. One wonders why the two put so much faith in what by and large sounded and looked like some form of focus group discussions on the country's politics. I still ask myself how ending violence can be legislated. And therein lies the rub.
Road for peace?
The BBI, therefore, - if we may believe their word- is a road map to stability and prosperity. However, the success of the BBI depends on a number of issues. Even though there seems to be a feeling of goodwill from the two chaperons, it is becoming apparent that more is needed beyond the hugs and the handshake.
SEE ALSO: Corona hits new high. Was it a gamble to reopen?
So much is at stake, not least, the future of a country. And from what we hear and see, both Mr Kenyatta and Mr Odinga have thrown so much into the BBI project. Will they succeed? Hopefully so. Former President Mwai Kibaki while promulgating the new Constitution in 2010 touted it as a panacea to electoral violence. "For me the new covenant is a guarantee that the Kenyan people shall henceforth resolve any potential conflict through the rule of law." he said then. Evidently, that didn't work. It might be time Mr Kenyatta and Mr Odinga tried something different. Is it time for the two leaders one having served two terms as president and the other as Prime Minister (and nearly 20 years as MP) to show magnanimity and declare they want to retire.
SEE ALSO: Mt Kenya ponders life after Uhuru as parties re-emerge
And here is why; Agents of change ordinarily are not the beneficiaries of their action but instead, they inspire others to enjoy these efforts.In history, agents of change themselves have suffered and been recognized posthumously.
Let others do the job
Christians, particularly the Catholic Church recognise its own long after their death. Individuals become saints after long periods of deliberation and scrutiny about their roles. Those who contribute positively to humanity, in the end, are immortalized and become saints. This is true in Judaism and Islam. How refreshing it would be if all those who served before could take a bow and let others do (complete) the job? Instead, together they could form a committee of wise elders with a huge moral (and informal) authority to question any waywardness and schemes to undermine our democratic values. The world over, any leader who voluntarily leaves the political office and resigns their ambition attracts admiration and support. In a sense, such an act elevates them high above other mortals. We are in a quandary. Already, we are split even before the report is released. The future of Kenya very much depends on how these leaders act especially after the BBI report is released. It only means that one wrong turn after the report is released and we are doomed. Kenya's future then is in the hands of these leaders. It all depends on the magnanimity of these leaders to become selfless and abandon their ambitions for the sake of the country they claim to love so much. In any case for Mr Kenyatta the Constitution is very clear, after his second term, he needs to move on. It is unfortunate that some are encouraging him to change the Constitution and stay on. Ten years is more than enough for one to govern and achieve all that he set out to do. A few more years will generally have little or no impact.
Exit Ruto, Kalonzo
SEE ALSO: Battle of wits and tactics as Uhuru and Ruto eye 2022
There was a sense of stability. Street protests were muted and the political rhetoric toned down. But there was little guarantee that would hold forever. The potential for violence looms large. Just see the happenings at last week's Kibra by-elections. The division within the top ranks of the Jubilee administration is growing wider and the bickering between one wing of the Jubilee Party and the Orange Democratic Movement just got louder and obnoxious. That worries me a lot. it should worry everyone. So as the push to change the Constitution gathers pace, we need to accept that Kalonzo Musyoka, Moses Wetangula, Musalia Mudavada, Raila Odinga, Uhuru Kenyatta, and William Ruto have done their portion and it is time for them to exit the stage. And now is not the time to pontificate about the rights of any Kenyan to contest a political seat. The issues are bigger than that. Were these leaders to head my advice, Kenyans will very much profit.
Mr Guleid is the Chief Executive Officer- Frontier Counties Development Council [email protected]