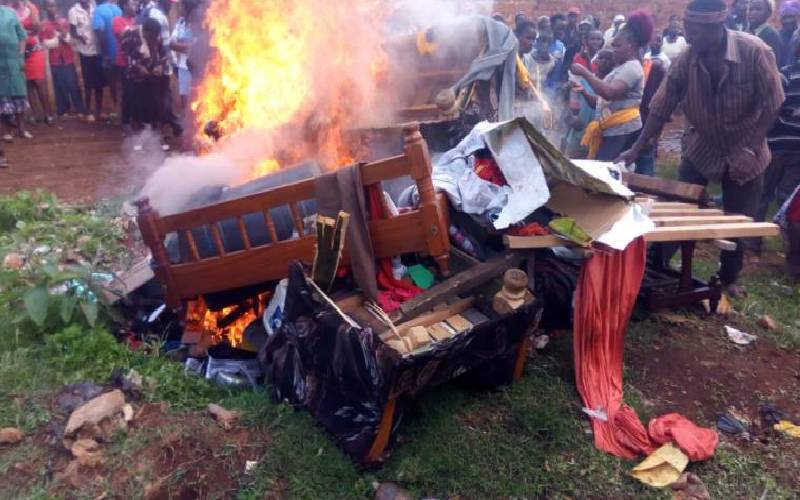 Three men arrested in connection with the murder of an Embu couple, but released for lack of evidence have sought police protection. This was after one suspect, Daniel Kinyua, was lynched by an irate mob protesting their release last Thursday. The mob also torched Kinyua's mothers' permanent houses, killed domestic animals and also destroyed crops in farms. Seven suspects had been arrested in connection with the killing of businessman Joseph Gitonga and his wife Caroline Kaaari at Kathakame, Kithimu Ward in Embu West sub-County.They were killed on October 14 at around 11pm in the presence of their children aged 10 and 6 years. The other suspects are Kelvin Gitonga, Boniface Gitonga, Dennis Munene, James Muriuki, Joseph Ndwiga and Michael Mbogo.
SEE ALSO: Coffee farmers reap big as new factory adds value to harvest
During the Thursday fracas, a house belonging to another suspect was also torched while household goods of other accused who have rented houses in the area were burnt. The three suspects surrendered to Itabua Police Station. Embu Police Commander Daniel Rukunga said police were holding the three. Mr Rukunga said they were not supposed to have been freed since they were facing other charges of being in possession of bhang. He said they sneaked out of custody under unknown circumstances after they were released over the murder for lack of evidence. "They took advantage to flee under the confusion that ensued.They will be charged with fleeing from custody. We will also look into the other aspect of how they were released in connection with the murder before necessary action is taken," he said. The police boss condemned the lynching, saying it was wrong for people to take the law into their own hands. "Those behind the lynching are being sought to face prosecution," he said. During the Thursday melee, the incensed residents stormed a home and found the suspect resting after release from police custody. They dragged him out of the house, descended on him and later torched his body. Window curtain The residents were particularly infuriated by the recovery of blood-stained bed sheets, window curtain and a TV they suspected belonged to the murdered couple as well as knives they suspected were used to commit the killing. They removed the bed sheets, marched in the village waving it while shouting slogans against the police, asking what other evidence they needed to prosecute the suspect. The police arrived later and engaged the residents in running battles.