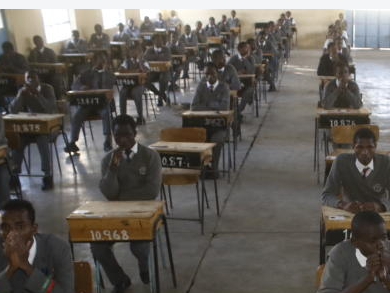 Kenya National Examination Council has listed a number of dos and don'ts that must be adhered to during the entire examination period. The tough rules that also spell out strict penalties will affect both candidates and examination administrators. Candidates will not be allowed any extra time while sitting KCPE and KCSE tests. And when the examinations are underway, unnecessary movements by candidates will not be tolerated. Only cases with special permission from the supervisor will be allowed. The Council has also cautioned any form of communication between candidates and strangers within or outside the school compound. "No communication whatsoever in whatever manner between candidates or with outsiders is allowed during the examination," read the rules.
SEE ALSO: Virus eats away 2020 and with it students' dreams
Knec says that any form of misbehaviour by candidates will be treated as an attempt to cheat in the examinations. Candidates who will engage in any form of misconduct or cause disturbance in or near the examination room will be treated as an irregularity. And within the examination rooms, candidates who will be caught exposing their question answers for fellow students to see will also be punished. Candidates are advised not to leave a sheet of paper they have written on or their answers in such a position that another candidate can read them. "You should not give or obtain unfair assistance, or attempt to do so, whether by copying or in any other way, and your work should not show proof of such unfair assistance," reads the rules. And candidates who will prepare short notes and carry them to the examination room will also be punished. "You are not allowed to have in your possession or in your proximity while in the examination room, any book, notes, papers or any other materials whatsoever except the correct question papers and any materials expressly authorised by the Knec," read the guidelines.
SEE ALSO: No KCPE, no KCSE this year
Knec says that no person will be allowed to gain access to examination material and knowingly reveal the contents, whether orally or in writing, to an unauthorised party, whether a candidate or not. It will also be punishable for any person to maliciously damage examination material, as this will attract imprisonment for a term not exceeding five years or a fine not exceeding Sh5 million or both. Knec also cautioned against impersonation and warned those who intend to sit the examinations on behalf of candidates. The Council says that in the event the impostor is a student, they will be prohibited from taking an examination conducted by or on behalf of the Council for three years. It will also be an offense to posses and use mobile phones in the examination centres, save for authorised officers. Candidates, supervisors, invigilators or head teachers will not enter an examination room with phones or other electronic devices. Supervisors and head teachers should keep their mobile phones and electronic devices in the office for use in emergencies that must be communicated to Knec. Candidates caught with mobile phones or electronic devices will have their results cancelled.