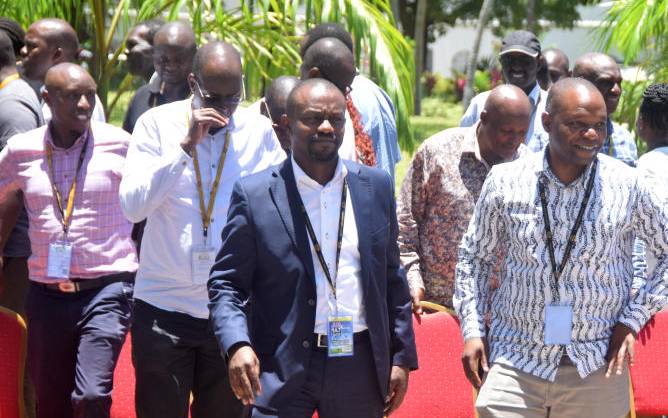 The increasingly unpredictable regulatory environment and digital disruptions are hurting businesses, Standard Group CEO Orlando Lyomu has said. Addressing the annual leadership convention for accountants in Mombasa, Mr Lyomu said the recent shutdown of betting firms was proof of adverse effects of unpredictable policies. "We are operating in a totally different environment compared to last year because of increased digital disruption and regulation challenges," said Lyomu. He said due to the digital or emerging new digital technologies, corporate firms would have to change from the traditional ways of business or risk going under.
SEE ALSO: Standard bets on technology to grow revenues
Lyomu said Standard Group had invested in technology by partnering with e-commence application developers and creating convergence system to enhance news coverage.
Digital technologies
"We are all talking about what has happened to Thomas Cook Group, which existed for over 178 years, but it was not able to survive because of the digital technologies," he said. He said most firms, like Kodak and the Kenya Post and Telecommunication Corporation, were not able to survive in the market because the rate of external changes was faster than internal changes. To stay afloat and serve the increasingly diverse or scattered audience, the CEO said Standard Group was implementing a strategy hinged on diversity and convergence. He said the media house was also partnering with BBC and other local small IT system application developers to disseminate news and information to targeted audience. In its five-year strategy plan, he said Standard Group had rolled out major products and platforms which are guided by research on consumer changing habits.
SEE ALSO: Standard Group CEO calls for professionalism during layoffs
Accountants from the Institute of Certified Public Accountants of Kenya (ICPAK) are in Mombasa for a three-day convention. ICPAK Chief Executive Officer Edwin Makori said accountants were deliberating how firms could survive in the current complex environment. Other topics to be discussed include importance of data driven decisions, navigating technology landscape, governance and ethics and how firms can bridge generation gap. Ibrahim Abduba, Enterprise Random Password Manager and Strategy and Business Developer, urged corporates to harness new technologies to for more gains.