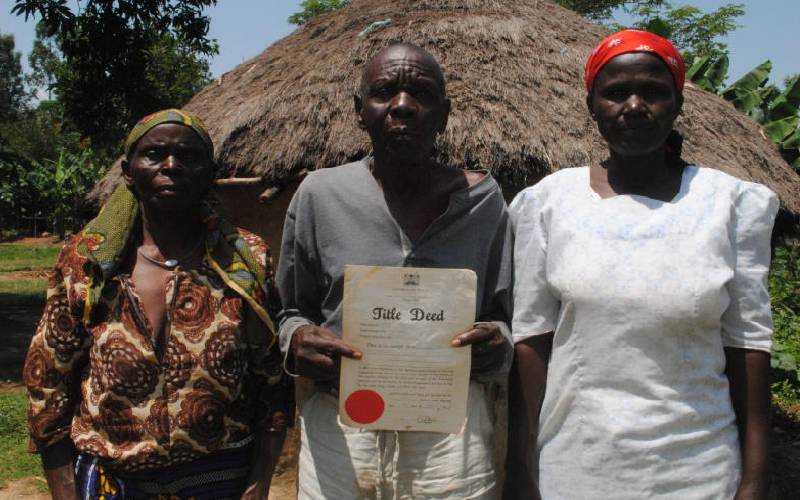 Residents of Matungu sub-county want the State to rein in cartels grabbing their land. The cartels are allegedly working in cahoots with politicians, businessmen, land surveyors, auctioneers, chiefs and village elders. Matungu became infamous early this year when at least 32 people were killed in a series of attacks by gangs. Over 100 victims of the Matungu field killings are still nursing life-threatening injuries sustained during the attacks said to have been carried out by members of the "42 and 14 Brothers". At least two people have been killed in cold blood in the sub-county this month. Residents claim the police are shielding suspects involved in land grabbing. It has been reported in some instances that security agents arrive brandishing fake court orders and title deeds and force innocent people out of their farms. In some cases, chiefs and assistant chiefs are alleged to be part of those generating fake documents, including burial permits and land transfer letters, for land grabbers which they use to conduct land transfer process in order to claim ownership. Victims interviewed are those from humble backgrounds who can't defend themselves and end up living as squatters in their own land. Some have even committed suicide. In some instances, family members grab land of a deceased patriarch and sell it, leaving widow and children homeless. Western Region Deputy Police Coordinator Leonard Omollo says many people are dying in the region owing to land-related conflicts. "The chiefs and assistant chiefs are also doing a disservice to us by engineering some of the conflicts while trying to arbitrate such cases," said Mr Omollo. He added: "We have been analysing why people are being murdered and others committing suicide in Western. Land grabbing was found to be a leading factor. The hot spots are in Matungu, Lugari and Chwele in Bungoma County." Omollo said the regional security team has given firm instructions to the police to always verify the originality of court orders before eviction is effected.
Nonexistent parcels
Tension is high in the area after people whose land has been grabbed vowed to "protect" their territory by all means. According to Bishop Rashid Nanjira, a victim of land grabbing, unsuspecting buyers have bought nonexistent parcels of land in Matungu and were even issued with title deeds. "The grabbers who are normally armed with fake court eviction orders and fake title will stop at nothing from evicting you from your home," said Bishop Nanjira. Fernandes Barasa, 75, a victim from Lung'anyiro village in Matungu sub-county, has an eight-acre land with a title deed under his name issued on April 30, 1996. His land dispute dates back to 1972 when he borrowed Sh900 from his friend and in return gave him an acre to till for six years as payment for the loan. After the lapse of the six-year period, his friend had already forged documents and allocated himself three out of the eight acres. "He forged land transfer documents and even put caution on my land and took me to court over claims I had sold him the land and that I wanted to evict him. He was working with the area chief but the case was dismissed 10 years ago after the petitioner (his friend) died," said Mr Barasa. In April, this year, a son of the petitioner came to demand the same parcel of land and even came with surveyors to sub-divide the land but were repulsed by Barasa's sons. "I went to the Kakamega Lands registry and did a search for my land and it was still intact," he said. But a month later, Barasa said it turned out that he had purportedly sold the eight acres. The deceased's son had changed the name on the green card although the official title deed had not been processed. A green card is a document that holds original records of all transactions relating to a piece of land. This means at the issuance of a new title, it must be preceded by opening a card for it.
Burial permit
A fake burial permit had also been deposited at the lands registry in Kakamega showing that he (Barasa) had died. This was to enable the lands registry transfer the land to the friend's son. "I reported the matter to area assistant chief and the village elder who instead of helping me, threatened to beat me up on grounds that I had sold my land and I must vacate with immediate effect," said Barasa. He reported the matter at Matungu Police Station vide OB10/27/06/2019, but no arrests have been made. John Odhiambo Oduor, 58, another a victim, has seven acres at Munami. The title deed bears the name of his father. "My neighbour, a relative of a local chief, destroyed the fence and extended the boundary by half an acre into my land on August 19, this year. "She told me I must move out of my ancestral land since the Mumias-Busia road ate a chunk of their land and they don't want to be squatters," said Oduor. "We didn't report the matter to the police since we were warned of dire consequences if we dared take that route," said Oduor.