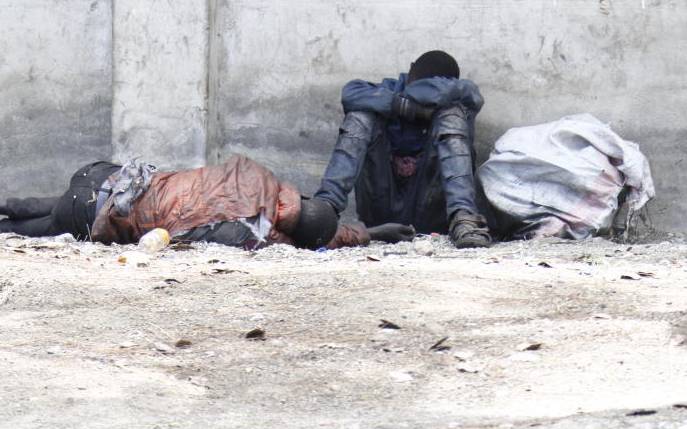 Nairobi
Apparently, all the five street boys share one characteristic. They had been rescued from the street at one point but went back.
On a quiet evening near a local bar in Kisumu, five street children wield pieces of broken bottles and stones, ready to fight. One claims his Sh200 was stolen and vows to kill whoever is responsible. "I will kill whoever stole the money which I got from my day's hustle. I am going to shed blood," he swears as more members of the street family gather at the scene. Apparently, all the five street boys share one characteristic. They had been rescued from the street at one point but went back. They are all about 15 years old. Hassan Ali, who claims he lost money, says he came all the way from Busia. He admits that life in the streets has not been easy and he makes a living doing menial jobs.
SEE ALSO: COVID-19: Nakuru MCAs risk lives to meet over Sh14,500 allowance
The 15-year-old says he was once rescued by a Good Samaritan at the Busia border and taken home but the suffering his step-mum took him through, made him opt to return to the streets. His mother died when he was seven and life changed for the worst when his father remarried. "My step-mother didn't care that I was still a child. She made me do all the housework and did not allow me to go to school like other children. She used to beat me mercilessly even when I make a slight mistake," Ali says.
Became unbearable
He escaped home when his stepmother went to visit a friend in the neighborhood.
SEE ALSO: Farmers turn to mobile apps as traditional markets shut down
Brunice Onyango, a 12-year-old boy, says he has been in the streets since December 2017 when life at home became unbearable. He says last year he was taken to Agape Children's Ministry but he escaped after a month. Onyango scaled the fence on a Sunday morning when everyone was busy preparing for church. "I checked around and ensured that no one was watching before I scaled the high fence," he says. "Agape does not allow us past the gate and while there, I could no longer hold my craving for glue," he adds. Dressed in a black faded shirt and a dark khaki trouser, Enoch Omuga sits in front of a hotel near their sleeping shed covered with nets. He narrates how he returned to the streets after escaping from three rescue centers.
SEE ALSO: Nakuru MCAs risk life, meet for money
Omuga has been in the streets for 27 years. The rescue centre was to educate him but he returned to the streets due to frustration. He narrates that at the organisation, he led a comfortable life and when he was taken back home, he could not cope due to poverty. "Worse, I was rehabilitated for three months in this luxurious environment only to be taken home to continue with the hardship I was in before I ran away from home," he says. Omuga adds that some of the organisations would take them in and after using them, would dump them in the streets. Statistics from the Quarterly Street Census dated April 26, indicated an increase of 33 per cent in street children on Kisumu streets in the past three months. The statistics further indicate that three out of 10 rescued street children would either sneak out or scale the organisations' fences back to the streets. Kisumu Sub-County Children Office Director Alice Wanyonyi says the children return to the streets because while at the rescue centres, they feel they are denied freedom. "They also feel intimidated at school where some are one to four years behind their peers," says Mrs Wanyonyi. Kisumu Street Children Rehabilitation and Consortium record that 64 per cent of children in Kisumu feel intimidated at school while the same percentage aged five to eight are behind class in Kitale. Street Children Rehabilitation Consortium manager and director of Agape Children Ministry Chris Page says street children run from rescue centers because of addiction to glue. "Most of the street children are addicted to glue and can't stop using it," he says. The page urges the government to ban the sale of glue to save the children.
Back to streets
He says the police should enforce laws prohibiting child labour, banning scrap metal and bottle sale that attracts the children back to the streets. The Street Children Rehabilitation Consortium manager says the major challenge is returning the children to rescue centres. Chairman of the Blueprint Rehabilitation Centre Moses Oyeyo faults organisations that use the street children for their own selfish gain. "These organisations take two or three children from the streets, and after they get sponsorships, the children are dumped back to the streets and the sponsorships are given to children from well-off families," he claims.