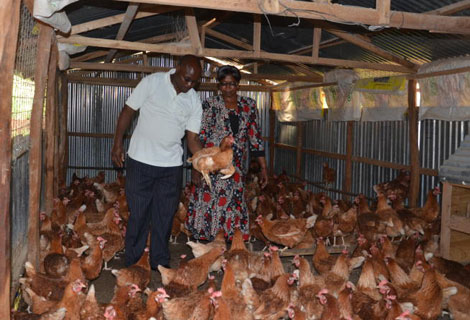 A survey titled Evaluate Consumer's Knowledge, Attitudes and Practices around sourcing and consumption of meat products, found that 92.6 per cent of Kenyans preferred chicken on their dinner tables to other types of meat. The survey by World Animal Protection (WAP) conducted between June and August this year also found that Kenyan consumers were increasingly becoming sensitive about where and how their meat was sourced. It also found that Kenyan consumers were increasingly becoming sensitive about animal welfare practices in places where their meat is sourced from. According to the survey, 75 per cent of Kenyan consumers would stop buying and advise their family and friends to also stop buying from outlets with poor animal welfare practices.
SEE ALSO: A-Z of making good cash from rearing kienjeji birds
More Kenyans are going for foods produced organically, with the study indicating that consumers are willing to pay more for meat that is chemical-free. "Meat consumers place a high premium on meat that is produced without chemicals and is safely transported to the market for slaughter. 76.4 per cent of Kenyans link use of antibiotics in animals to poor human health and diseases," said Victor Yamo, campaigns manager-animals in farming, at WAP The study found that consumption of beef came second at 84.7 per cent, followed by fish at 79.4 per cent and goat meat at 75.7 per cent. Dr Yamo attributed the more preference for chicken to growing realisation of the health benefits of white meat as opposed to red meat. "Chicken is white meat and studies show it is healthier compared to red meat. As more people learn the health benefits of white meat, there will be more demand for chicken," he said. Rabbit tailed in the list of meat preferences, with the study finding that only 21.4 per cent of Kenyans preferred it to other meats.
SEE ALSO: KDF evacuates 27 Kenyans stranded in Ethiopia
Second last meat preference was mutton, at 42.7 per cent, while 50.7 per cent of Kenyans in the survey said they preferred pork. In terms of sources of meat and meat products, majority of Kenyans said they bought from butcheries (64.7 per cent) followed by supermarkets (23.3 per cent) and farms (4.2 per cent). The study also found that dinner was the least popular meal among Kenyans (17.7 per cent), with lunch leading the list at 46.7 per cent followed by breakfast at 29.5 per cent. However, 2.3 per cent of Kenyans interviewed said they preferred snacks. According to the study, supermarkets, fast-food restaurants and large producers have the market power to stop the misuse of chemicals from the point of production and help address public health concerns.