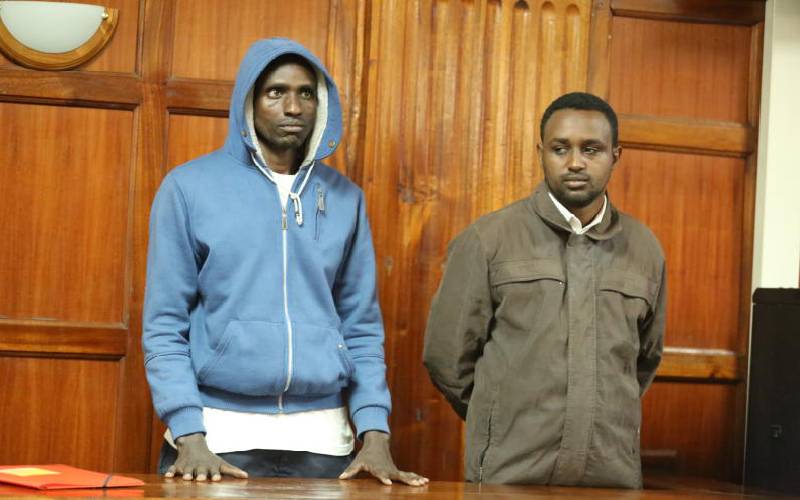 Nairobi
Police say if released, the suspects are likely to interfere with investigations.
Police have sought orders to hold two men they suspect were involved in the theft of Sh42 million from Equity Bank in Moyale. Roba Diba Boru, an operations manager at the bank's Moyale branch, and Nelson Kipng'etich Lang'at, a Wells Fargo officer, were arrested at the Moyale Airstrip. They appeared yesterday before Milimani Senior Principal Magistrate Bernard Ochoi. Police are seeking to hold them for 21 days. Wilson Koech, an officer from the Special Crimes Prevention Unit, swore an affidavit alleging the suspects' involvement in the theft.
SEE ALSO: Kenyan brands among the most admired in Africa
In the affidavit, Mr Koech said Diba was well informed of the arrival of the cash at the bank, and was on duty to receive it. He also noted that Kipng'etich was assigned to escort the money to the bank. Security standards Preliminary investigations showed that the respondents were aware of the regulations and security standards to be followed when handling the cash," said Koech. "They should not have allowed the pilot to land at Odda Airstrip without proper security measures in place," said Koech.
SEE ALSO: Banks withdraw 2019 dividend amid uncertainty
He further told the court that forensic studies were ongoing to connect all the people involved in the theft. He said if the two suspects were released, they were most likely to interfere with investigations. Eric Kinyua, the defendant's lawyer, said the affidavit was speculative and lacked substance. "Your Honour, my clients are not in charge of the airstrip. I'm wondering how they are connected to the theft," Mr Kinyua said. Mr Ochoi said he would give a ruling at a later date.
SEE ALSO: Corona: Equity, chamber strike Sh250b loans deal for SMEs