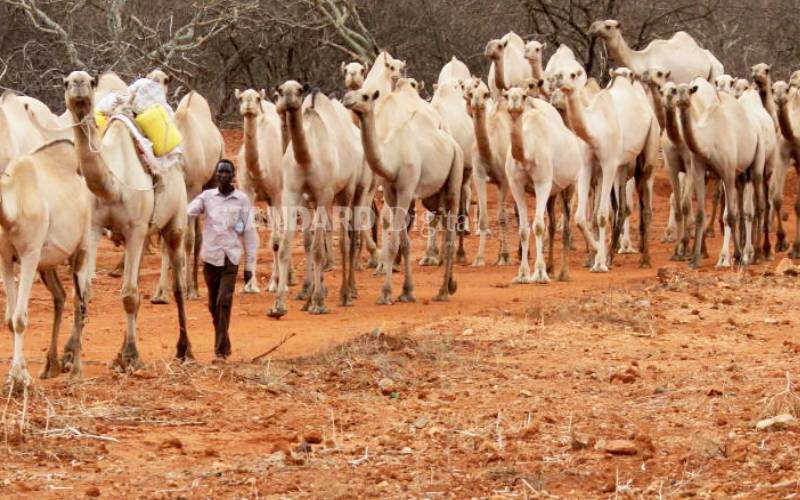 Eastern
The MPs advised Matiang'i to personally visit Inyali village inside the game reserve
Banditry along the restive Kitui-Tana River border has reared its ugly head again with the recent killing of a businessman and displacement of hundreds of people from their homes. The unlucky victim of these incursions, orchestrated by armed camel herders, was Mulatya Munyao, who was shot in his shop at Ingo village. The merciless killers then dragged his body outside and chopped off the head, perhaps to send a chilling message to other residents. News of the brutal killing of the businessman quickly spread, forcing terrified locals to flee their homes, with the aged and school-going children perched atop donkeys together with household goods on a night mass exodus.
SEE ALSO: Matiang'i orders for report into viral clip of cops harassing truck driver
The exodus was witnessed at Ingo, Inyali, Kakya, Ikandani, Musenge and Kalambani villages, with the displaced people pitching camps at Mutha Police Station and Mutha Catholic Church for refuge. The herders, in their hundreds, seemed to have been angered by some locals who drove out a herd of camels that had strayed into Ingo PCEA church. And on Sunday, Jonathan Ngau, a primary school teacher, and a man he was carrying on his motorcycle were ambushed and stabbed with a spear. This was followed by a burst of gunfire, which they miraculously survived. The teacher is still admitted to Mutomo Mission Hospital while the other man has since been discharged. The latest resurgence of attacks prompted Kitui political leaders, among them Kitui Senator Enoch Wambua, to seek an appointment with Interior Cabinet Secretary (CS) Fred Matiang'i on Wednesday.
Armed bandits
SEE ALSO: Explainer: A look at locked-down Dadaab and Kakuma refugee camps
"We told the CS in no uncertain terms that there is no way our people are going to coexist with armed bandits. There will be no coexistence when our people are being killed," Mr Wambua said. The leaders called on the Government to ensure all the camels grazing inside Kitui County and their herders, who mostly hide inside South Kitui Game Reserve are flushed out for long-lasting peace to be realised. "This conflict must come to an end but it will not end as long as we have camels in Kitui. The camels must be moved out alive or dead…on that one we are not negotiating," the senator added. The MPs advised Matiang'i to personally visit Inyali village inside the game reserve, which is described as the epicentre of banditry and where insecurity in the county is bred. Somalis numbering about 3,000 reside in Inyali, with children of school-going age being left to wander in the wilderness herding thousands of livestock.
SEE ALSO: 500,000 masks among donation from China to boost coronavirus fight
It is here where the National Assembly committee on administration and national security landed in a chopper on Friday to assess the security situation. As soon their chopper touched down, a battalion of Somali men emerged from the thickets spoiling for war. It was clear the legislators, who included area MP Rachael Nyamai, were unwanted. "Mheshimiwa mimi nauliza wewe umekuja amani ama siasa…tangu 88 mimi iko hapa," (Are you here for peace talks or politics? I have lived here since 1988) a visibly angry man identified only as Farah shouted at Nyamai. The hurried meeting quickly turned into a shouting match as the Somali herders gave the MP a dressing-down, claiming they were her voters and would not budge. The politicians retreated to their chopper and left the area. They went to Mutha market and later addressed the Press in Kitui town.