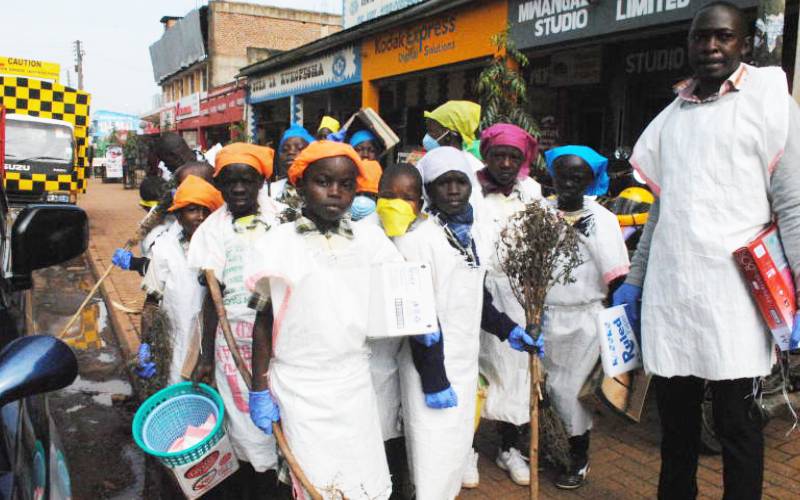 Education
Groups say teachers and parents not ready for the implementation despite the ministry's push.
Civil society groups have told the Government to suspend the Competency Based Curriculum (CBC) citing unpreparedness from those who are supposed to implement it. The Kenya Human Rights Commission (KHRC), Kenya Tuitakayo (KT), Civil Society Education Fund (CSEF), Homa Bay County Education Network (HBCEN) and Homa Bay County Bunge La Wenye Nchi have rejected the ongoing implementation of the curriculum. The KHRC Executive Director George Kegoro, KT chairperson Muthoni Kamau, CSEF co-ordinator Boaz Waruku, HBCEN co-ordinator Julius Omuga and the Bunge head Walter Opiyo said public participation and consultation among stakeholders was lacking. Speaking in Homa Bay during a conference dubbed Elimu tuitakayo (education we need), Kegoro said many teachers who are supposed to implement the curriculum still lack the requisite knowledge about it.
SEE ALSO: To end unease, time for TSC to give up regulatory power
He said the curriculum also requires the input of parents yet the parents are also oblivious about what they should do. He said the Government should put the CBC on hold to enable it to undertake public participation before the implementation begins. "We are calling on the Government to put the implementation of the CBC on hold. Our enquiries reveal that education stakeholders in Kenya are not ready to implement the curriculum today," said Kegoro. Muthoni told Education Cabinet Secretary Georg Magoha to stop forcing Kenyans with the CBC. She told the CS to consult stakeholders before forcing them to uphold it.
SEE ALSO: Singer Selena Gomez takes on Uhuru over unmet 2018 pledge
"The curriculum has put a very big load on parents to undertake its implementation yet they (parents) are clueless about the entire process," she said.
Universities not involved
Waruku said the rushing the CBC implementation will plunge children into academic trouble, adding that the government could be hiding something. "The hurry involved in implementing this curriculum means there is something fishy about it. Let Magoha retreat so that Kenyans can dialogue about this matter," said Waruku. They said universities and colleges should have been involved in the implementation of the education system. "CBC students will be expected to join universities but universities were kept out in the implementation," said Dr Maurice Ndolo, a lecturer at Tom Mboya University College. The education stakeholders said the Government had not provided all learning aids required in schools for the CBC implementation.