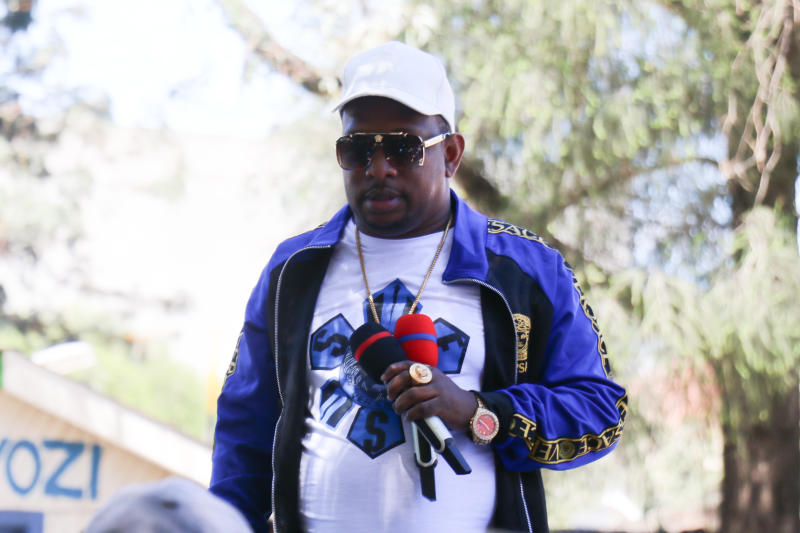 Nairobi
Sonko recorded a statement at the EACC offices in Nairobi where he is said to have told investigators the money was purely on business purposes
Detectives at the Ethics and anti-corruption commission (EACC) are now relying on bank statements to determine bribery link between two main companies that are said to have wired a cumulative of Sh20 million to Nairobi Governor Mike Sonko.
At the centre of investigations are two firms, Toddy Civil engineering company Limited and Hardi enterprises limited associated with businessman Antony Mwaura the two main players in unearthing the bribery allegations against Mr Sonko. On Tuesday, Sonko was grilled for for over four hours at the EACC's Intergrity Centre where the sleuths were seeking to determine circumstances under which a contractor wired money to a tune of sh20million.
Sonko recorded a statement at the EACC offices in Nairobi where he is said to have told investigators the money was purely on business purposes and had nothing to do with the county affairs. EACC is investigating claims of corruption in the award of the tenders for the 2017/18 and 2018/19 financial years.
Abdi Mohamud, the EACC director in charge of investigations, had writter to the Nairobi gorvenor seeking his appearance on on the bribery allegations. The probe was first kickstarted by the Nairobi County Assembly Public Accounts Committee (PAC) which questioned the whereabout of Sh160 million paid to contracted garbage collectors which officials at City Hall's Environment department could not account for over. The investigators are seeking answers on whether money wired to Sonko's account in 2017 have any bribery link to garbage tender that was awarded to Hardi limited, a company owned by Mwaura, a close ally of Deputy President William Ruto. Sonko is said to have told the investigators grilling him that the money that was wired to his account was meant for land purchase and had nothing to do with bribery allegation. Documents in possession of the Sunday Standard EACC Sonko provided evidence showing the company had started wiring the money to his account before he became governor. For the purchase of his land in Kwale county, which he had sold to Mwaura. He further added in his statements that, on the December 17 last year, Sh3 million was wired to his equity account from Toddy Limited company. "The documents in our possession, in 7thApril 2017 the same company deposited Sh600,000 to Sonko's account and Sh1.5 million in the month of May. In his statement a copy of which the Sunday Standard has, Sonko in his response told the sleuths that he started receiving payments from 2015 from Mwaura when he was still a senator. The documents he presented to EACC included certified copies of the accounts indicating the said payments dating back to a first transaction on September 2015. He also presented a copy of the title deed of 1.74 hectares of land in Kwale land registered as Kwale/Golini/383 which is the land that he sold to the owner of Toddy As it appeared, EACC has been tracing of money flow since last year. In a letter addressed to Equity bank CEO dated July this year, EACC had sought original documents to transactions from Toddy to Mr Sonko's account. "Pursuant to miscellaneous application warrants No 1422 of 2019 and 2242 of 2019, we acknowledge receipt of the stated bank statements and some transaction documents requested," said a letter from Mr John Lolkoloi, Deputy director, forensic investigation at EACC. In the letter, EACC asked the bank to avail the person who authorized the six transactions to record a statement before them at integrity Centre.
It also asked the bank to provide original documents for six transactions conducted in two accounts belonging to Toddy Civil Engineering Company and Hardi Enterprises Limited on specific dates. The transactions comprised of four transactions by Hardi Enterprises Limited totaling Sh40 million and two transactions amounting to Sh11 million by Toddy Engineering Company. From the latter transactions, account named Mike Sonko received Sh3 million on December 17 last year. However, EACC does not mention the names of the owners of the two companies involved in the transactions. The detectives at the EACC had on Tuesday summoned Sonko at their Integrity Centre offices and caused quite a storm judging from the period of interrogation. Sonko has since been in the headlines after the allegations that he claims have dented his 'anti-corroptiom image' He had even contemplated stepping aside seeking to clear his name from these fresh allegations until a political angle to it was realized and the plan shelved. Sonko has claimed that the claims of bribery were a political witch-hunting driven by cartels that have not found space to trade at city hall.