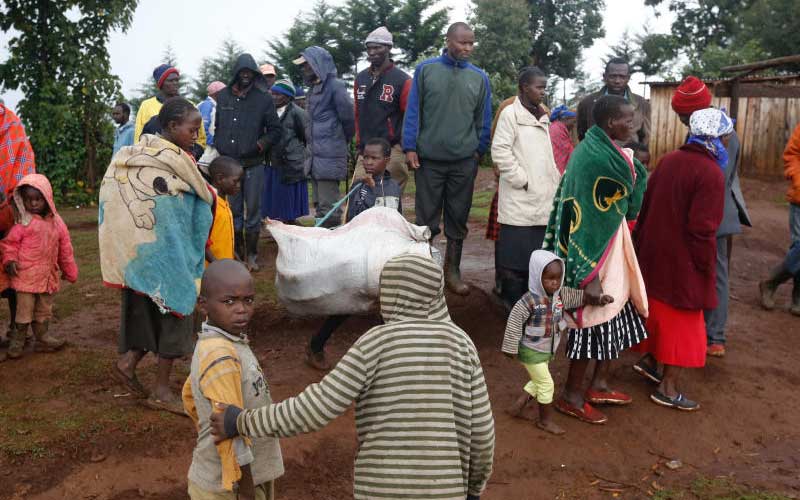 Rift Valley
Tough luck? Kenyan soldiers sunk their earnings from peacekeeping mission in 2001 on the forest land
Soldiers who served in the United Nations peacekeeping mission in Sierra Leone, in 2001, returned home with prospects of turning around their lives. With ready cash they bought large tracts of land in Maasai Mau forest. Their families are now are among the 60,000 settlers to be removed from the forest in the second phase of evictions. A village in Ol Pusmoru in Narok South where the soldiers acquired land was thus named Sierra Leone, the country where they served between 1976 and 2000.
SEE ALSO: Yemen: world's worst humanitarian crisis
They reportedly bought the land from a former powerful Cabinet minister from the Rift Valley. The first phase of the evictions in 2005, 2009, 2018 and now 2019 have always had Sierra Leone in the list. The centre is dotted with simple structures made of wood and iron sheets. The retired soldiers say some of their colleagues who own land in the area still serve in the military. Those who live there chose to name the place Sierra in honour of soldiers who lost their lives during the peace keeping mission. It was also meant to keep their history alive.
SEE ALSO: UN chief urges peaceful US protests, calls on leaders to listen, show restraint
The Sierra Leone civil war of 1991 to 2002 according to Erick Bett saw several soldiers lose their lives and more than 50,000 people killed. Bett, a former Air Force soldier retired in 1989 and has since been living with his family in the area. "My colleagues who went to Sierra Leone for a peace keeping mission were given their dues and bought land here. We chose to name it Sierra Leone to remind us of our days in that country and as a sign of respect to those who lost their lives in the mission," Bett said. He reveals that the parcels of land they acquired were formerly group ranches. The retired soldier is a member of Nkaroni Group ranch. "I joined Nkaroni Group Ranch in 1997, but I came in before they were subdivided. In 1998, surveyors came and having been accepted as a member, the land was subdivided and I got my share," he says.
SEE ALSO: Growing US-China rivalry seen fueling UN paralysis amid virus crisis
He laments that it is unfair for the government to treat them like animals yet they wereb public servants. "I once served this country and should be respected, we are shocked that we have to pay this by being evicted despite having followed due process," he adds. Bett admits that they are aware of a buffer zone where the Government planted tea in 2015 and have never gone beyond it. He wants the government to address once and for all the disputed boundary to end the Mau problem that is revisited every year. The Environment Cabinet Secretary, Bett says is dealing with a fragile issue despite being a matter of conservation of the water tower.
SEE ALSO: Samburu man kills mother over piece of land
Zachayo Kipkoskei, a retired corporal who was an aircraft technician in charge of helicopters, says he has known no peace since he acquired land in 2000. "We have been living in fear and the Government is to blame. Why do we have to suffer having served the Government," he laments. He urges the government to dialogue with them to find a lasting solution to the Mau problem. Leonard Langat who also served in the military is among the people who acquired title deeds. He reveals that he was approached by owners of group ranches. In 2000 he was given ten hectares having participated in the subdivision of the group ranches and bought another ten hectares.
SEE ALSO: US and China fight at United Nations over Hong Kong
During the exercise, he reveals that letters were written to the defunct Narok Municipal council seeking to know whether there were objections to subdivide the ranches. The council gave the go ahead.