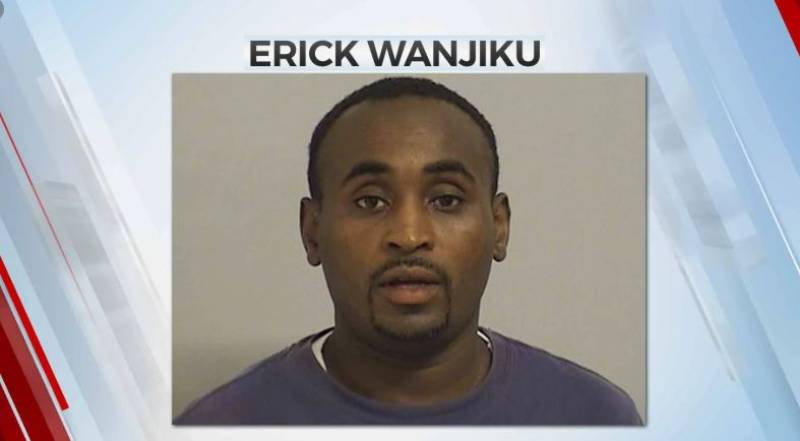 Kenya
A Kenyan man accused of beating, strangling and kidnapping his ex-girlfriend arrested in the US.
A Kenyan man has been charged with domestic assault, battery, rape and kidnapping his ex-girlfriend in Oklahoma, US. According to news reports in Oklahoma, Erick Wanjiku invited the victim to his apartment and forced her to perform a sex act. When she refused he began beating her. The ex-girlfriend told police that she tried to escape but Wanjiku strangled and raped her. When she tried to escape again, he allegedly dragged her back upstairs where he gashed her forehead that caused tremendous blood loss.
SEE ALSO: U.S. considers imposing sanctions on China
"I need to go to the hospital because I'm going to die," his ex-girlfriend managed to convince him and as they went out to the car, she ran away. Upon hearing the details of the assault, the Special Victim's Unit detectives worked fast and stayed late to make the arrest and got Wanjiku locked up before he could fly out of the state. "When you read a case that sends chills down your spine, and you know you are not going to leave until you make an arrest, this was that case," said Sgt. Jillian Phippen, Tulsa Police Special Victim's Unit. According to the police, Wanjiku wrote the victim an apology letter that said, "I take responsibility for causing you harm instead of being supportive and upholding you." When asked about forcing his girlfriend to perform a sex act, Wanjiku said that he did not remember that. But if he did, he was sorry.
SEE ALSO: U.S. limits travel from Brazil amid worsening coronavirus outbreak
About the rape, he told the police that he remembered putting on protection but did not remember having sex. Wanjiku was ordered by the judge who prosecuted him to wear a GPS monitor and not to leave the state without permission.?