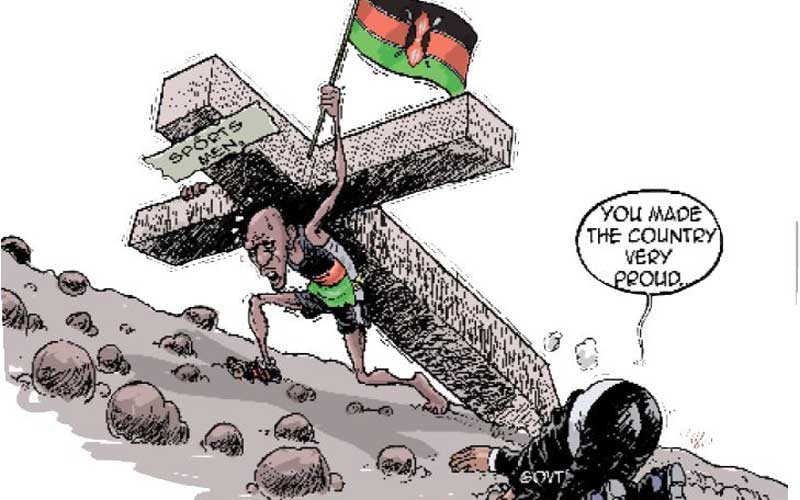 We have become too cavalier in our handling of our sports stars. Is it that the Government has chosen, head-in-sand, not to view sports as the valuable industry and massive employer it can be? Reports of Kenyan sports teams abandoned to their own devices or denied their dues are too common. Recently, Kenya's Lacrosse team played without cleats (boots), and their Israeli opponents at the world championships beat them then bought each Kenyan team member a pair of cleats. For shame! Quick trivia: Which Kenyan worker is the country's highest paid employee? If numbers are not your thing, then let me throw in a non-numerical hint – if the top three highest earning employed Kenyans were to stand in line in their 'work clothes', Kenya's top earner would probably not be in a suit and tie.
SEE ALSO: State rolls out stimulus for athletes
Sh34 million
He would likely be in studded boots, black shorts and a white jersey. You may easily guess who this is at this point, I assume. He would be Victor Mugubi Wanyama, who earns a juicy Sh34 million salary playing for English side Tottenham Hotspurs in the Premier League. The next two highest earners are predictably bank CEOs, with Co-operative Bank's Gideon Muriuki on average earning Sh31 million monthly in salary plus bonuses while KCB's Joshua Oigara ties up Kenya's top trio with his average monthly pay of about Sh22 million, including bonuses. Outside of football, the exploits, fame and dominance of Kenyan runners need no repetition here. Critically, their prize-money wins rival the incomes of our best and brightest professionals. Current world marathon record holder Eliud Kipchoge earned Sh50 million for each of his three World Marathon Majors titles (the prize money has since been halved), on top of the tens of millions he earned for each race won in the different cities. He also has a long-standing million-shilling contract with Nike besides other brand endorsements and attendant bonuses.
SEE ALSO: 231 Paralympians receive Sh10,000 each from Government
Our athletes are worth their weight in gold too, literally. Kenyan athletes have earned a combined 103 Olympic medals (including 31 gold) since the country's Olympic debut in 1956. Whenever we send out a team to a competition, we casually expect them to bring back medals. But if you want to know the value of just one Olympic medal, you can look at the effort some countries put into trying to win one, and the value they place on it once it comes home. When in 2012 Kirani James won Grenada's first Olympic gold in the 400M, the Grenadian government held a grand party where thousands came out to celebrate. He was given about Sh20 million in government bonds and had his face printed on commemorative postal stamps. Further, a stadium was named after him and a new museum-cum-gym was constructed in his hometown in his honour. Next door in Uganda, President Museveni rewarded Stephen Kiprotich with cash, two new homes, and a new car and improved funding for sports after Kiprotich won gold in Olympic Marathon in 2012. (It was the country's second gold medal after John Akii-Bua's brilliant win in the 400M hurdles in Munich in 1972). Qatar has longed for such golden glory for so long that it decided if all the petrodollars it had could not create conditions good enough to produce Olympic gold medal winners, then they could perhaps buy one. And they almost did in one Saif Saaeed Shaheen, whom Kenyans knew as Stephen Cherono until 2003 when he switched allegiance to Qatar, reportedly for a substantial lifetime salary and a one-off payment of 1 million dollars. (Footballer Oliech allegedly refused a similar offer, preferring to die on the sword of patriotism. One wonders if he sometimes wishes he had taken the money and run). Sports' global reach enables sportsmen to become ambassadors of sports' ability to unite (when Pele visited Nigeria in 1969, the Biafran War took a two-day break), inspire and sometimes when needed, thaw the hearts of some of the world's meanest dictators. Reclusive North Korean leader Kim Jong Un easily warmed up to former NBA star Dennis Rodman, who would visit the pariah state often, establishing a back channel for Washington and Pyongyang that led to the historic summit between President Trump and leader Kim last year.
15 hostages
Boxer Muhammad Ali played a key role in the release of 15 US hostages held by Iraqi strongman Saddam Hussein in 1990. Unfortunately, our government has rarely found use for our sports heroes for such duties. Stars like Wanyama can have a role in fighting youth radicalisation in vulnerable counties through football-based initiatives. Tegla Lorupe's peace marathons, for instance, have ushered an era of peace in counties that had been wrecked by cattle-rustling, following years of futile efforts by politicians in suits and ties. Our athletes market Kenya more than a 1,000 Kenya Tourist Board adverts could ever hope to reach. Their runs on the track and energy in the field inspire more than any speech our politicians could ever make, and in winning, they bring the country together more than any law or constitution written could ever envision. We owe them a debt we could never repay.
Mr Owino is a master's student at University of Nairobi