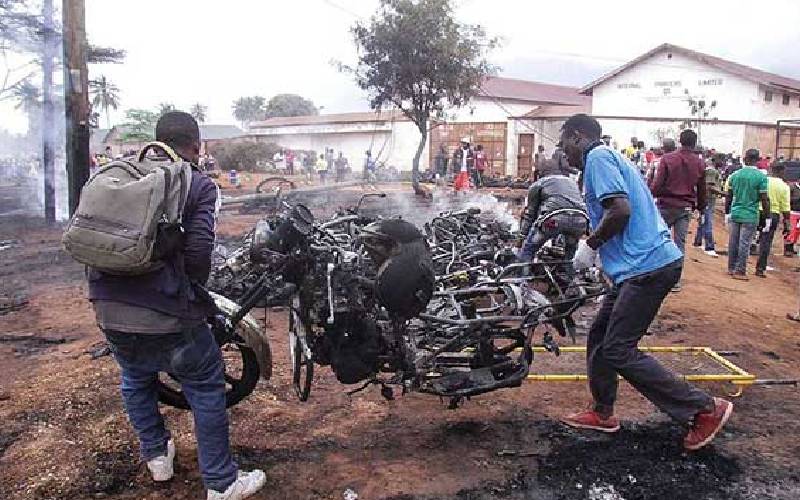 Editorial
Usually, those who rush to scoop fuel blame poverty for putting their lives in danger.
In as much as calamities happen, people never seem to draw any lessons from them. Only days ago, more than 60 people died in Morogoro, Tanzania, after an overtuned fuel tank they had rushed to siphon fuel from exploded. In February 2009, a fuel tanker and a matatu were involved in an accident along the Luanda–Busia road. To those in the vicinity, it was party time as they scrambled to scoop spilled fuel, intent only on making money despite efforts by police officers to stop them. For their trouble, five people died after the spillage flared up. In February 2010, an accident at Sachangwan along the Nakuru-Eldoret highway, in which a fuel tanker overturned, led to the deaths of 110 people after the fuel ignited while locals scrambled for it. They, too, had defied police orders to vacate the danger zone. Negligence on the part of the Kenya Pipeline Company was blamed for the 2012 Sinai fire in which 100 people died.
SEE ALSO: Father, son jailed for 20 and 15 years respectively for raping neighbour
But despite these examples that clearly show the danger of fuel, some residents of Nakuru still attempted to scoop petrol after a tanker leaked fuel along the Nakuru-Naivasha highway on Monday this week but police officers cordoned off the area. The officers, together with firefighters, deserve plaudits for forestalling what could have become another disaster. Usually, those who rush to scoop fuel blame poverty for putting their lives in danger. But, with all due respect, it's is poverty of mind, not poverty, that is to blame for such madness. Rushing to scoop petrol is like shooting straight into your heart. Death is guaranteed.