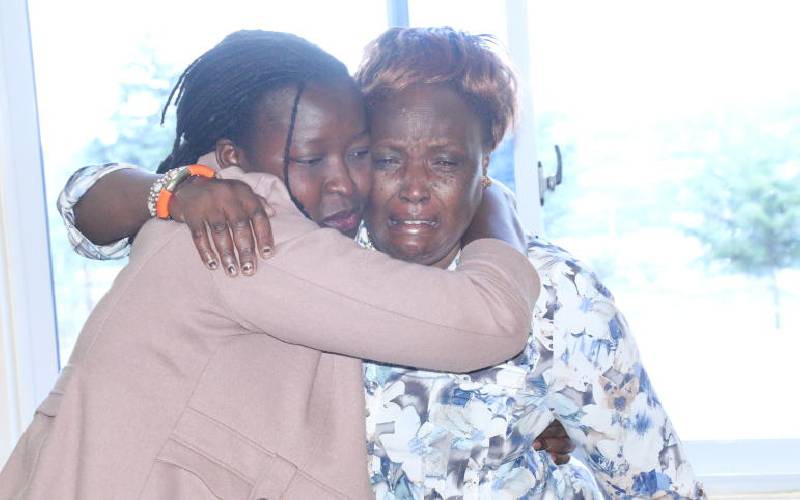 Rift Valley
Neighbours will hold a night vigil at Laboso's home in remembrance of the good things she had done for the community.
Bomet County employees and residents yesterday went into mourning after governor Joyce Laboso's death was announced. County Secretary Evaline Rono received the news together with three county executive members and relayed it to the rest of the workers. Some of the workers who spoke to journalists said they were shocked since they had been told earlier in the morning that the governor was doing fine in hospital. At Ms Laboso's home in Rongena village, Sotik Constituency, mourners streamed in to condole with the few relatives who had been left behind after others trooped to Nairobi.
SEE ALSO: PHOTOS: Night burial for first COVID-19 victim in Bomet
Ms Rono said Laboso's death was devastating and hard to bear. "It is sad and hard to believe for some of us. It is a big loss to the entire country and not Bomet county alone," Rono said. Business activities came to a standstill in Bomet town, with residents gathering in small groups while discussing in hushed tones the illness that felled their governor. Some of Laboso's neighbours in Sotik could hardly believe her demise. Joseph arap Molel, a neighbour, said he is yet to believe that Laboso would never return to their village.
SEE ALSO: Widow's attempt to exhume body flops
"We are already lonely since we were used to seeing her everyday. She used to leave for work in the morning and return in the evening," said Mr Molel. He revealed that neighbours will hold a night vigil at Laboso's home in remembrance of the good things she had done for the community. Bomet MCAs also came out to mourn the governor's death. Assembly Clerk Isaac Kitur said the death was a big loss to the county. Mr Kitur said Laboso had proved to be a pillar both in county development issues wise and in social matters. "She has brought unity in the county even when it was nearly impossible to do so and cooled political tempers," said Kitur.
SEE ALSO: Bomet: Armed brewer sends 12 chiefs, Nyumba Kumi members running
Embomos MCA Robert Serbai said it will be hard to fill the gap Laboso has left in county leadership. Former Governor Isaac Ruto also joined locals and leaders in mourning Laboso. Mr Ruto said he has known the Laboso family for many years and will pass by her home to offer condolences. Energy Cabinet Secretary Charles Keter described the late Laboso as an exemplary leader and a friend of Kericho people. "Joyce was a development conscious leader and a role model for women aspiring for leadership positions. I visited her at the hospital in India where she was recuperating and she told me she was strong at heart," said Mr Keter.
SEE ALSO: Bomet: Meet four siblings who refused to be held back by blindness
"Her passing is a big loss to her family, the people of Bomet and Kenyans in general. We will stand with the family. May the Lord rest her soul in peace."