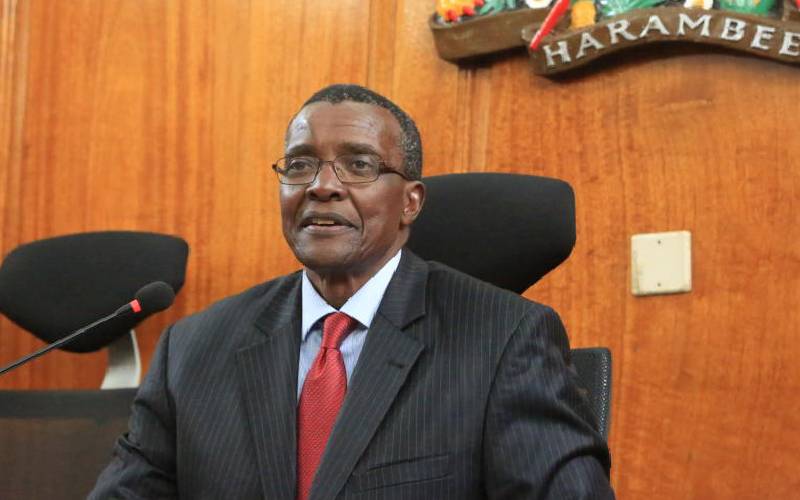 Chief Justice David Maraga yesterday urged governors, senators and MPs to give dialogue a chance before allowing the Supreme Court to intervene on the Division of Revenue Bill. According to Justice Maraga, it is the work of the two houses of parliament and not the courts to decide how much money counties should get. "I understand that the operations of the county are at a standstill. We have had a meeting this morning with other judges at the Supreme Court and we are reluctant to intervene," said Maraga. "This is a legislative process that the two houses should carry out on their own."
SEE ALSO: Kituyi not under PAC probe, National Assembly clerk says
Justice Maraga said that judges of the apex court had sat earlier in the day and decided to have the parties come up with a solution to the stalemate on their own. He however pointed out that if a solution will not be reached by the two houses, the apex court will come in and unlock the impasse. At the same time, Sheriffsam Mwendwa, the lawyer who is representing the National Assembly informed the Appeal Court that another Revenue Allocation Bill has been published and is expected to sort out the current standoff. Mr Mwendwa said by tomorrow, a solution could be realised since the Assembly has already adopted the new bill and the public is welcome to give its views. "Perhaps by Thursday, I'm sure parties will have reached some conclusion. The National Assembly was on recess but main committees were proceeding. My instructions were that by Thursday it will be able to consider the new division of revenue bill," said Mwendwa.
SEE ALSO: Uhuru and Raila dig in to quell stand-off over counties' cash
On the other hand, the Senate, through lawyer Wangechi Thanji, informed Justice Maraga that there have been long but unfruitful discussions with the National Assembly. "There have been lengthy discussions but we have not been able to agree. We are willing to continue with discussions. If they do not bear fruits, then this matter will proceed," said Ms Thanji. Senior lawyer Fred Ngatia, who is representing the Governors, said the case should proceed without further discussions. Mr Ngatia said there were more underlying issues affecting counties that needed the court's intervention other than the contested bill. Ngatia argued that governors have been reduced to mere bystanders while the national government splashes billions of shillings on other projects, but at the same time refusing to release money for counties' development projects.