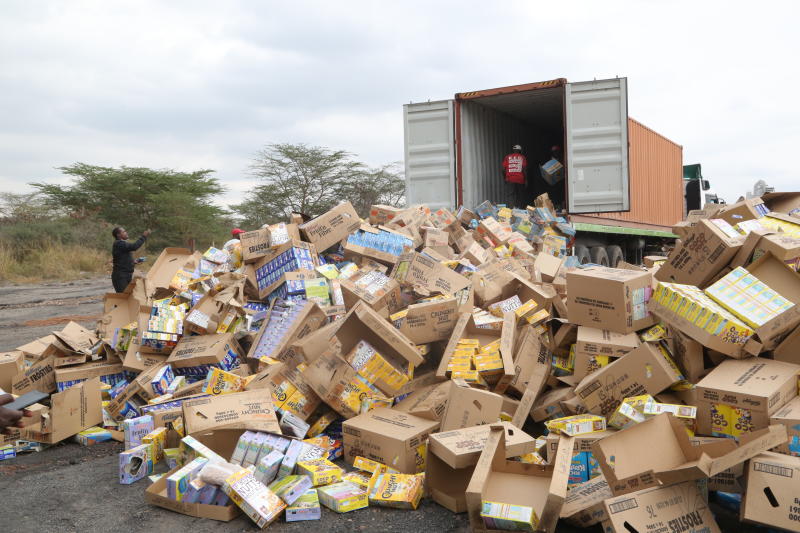 ?The war on fake products has cost the Government some income, after taxes on imported goods underperformed by end of May. The Kenya Revenue Authority (KRA) collected Sh97 billion in import duty in the first 11 months of 2018/19 fiscal year, falling far below its June target of Sh135 billion. This means the taxman achieved 71.8 per cent of its target compared to 87 per cent it achieved in the same period in 2018. All the other categories- income taxes, value-added taxes (VAT), and excise taxes-improved in the period under review compared to 2018.
SEE ALSO: Over 4m Kenyans file tax returns, non-compliant to face consequences
In early January, National Treasury noted the underperformance of import duty below the cumulative November 2018 targets, promising to closely monitor its performance and that of Excise taxes. Imports from January to May were Sh726 billion, a decline from Sh756 billion in the same period in 2018. China, Kenya's leading source of imports, has seen its import bill decline as the Government's crackdown on tax cheats has disproportionately affected small traders who import manufactured goods from the Asian country. The Government has also intensified raids to rid local manufacturers of unfair competition emanating from illicit trade. "As a result of the various operations conducted within the country, counterfeit goods worth more than Sh8 billion have been seized and action was taken on the culprits," said Treasury.
SEE ALSO: As surrogacy booms, fears Ukraine becoming 'online baby store'
Moreover, to protect some local industries critical in President Uhuru Kenyatta's Big Four Agenda, Treasury has slapped some imported commodities with punitive tariffs. These products include steel, plastics, paper, wood and textile. Imports of these products import tariff of between 25 and 35 per cent (in the case of textile) rather than the common external tariff of 10 per cent.
[email protected]