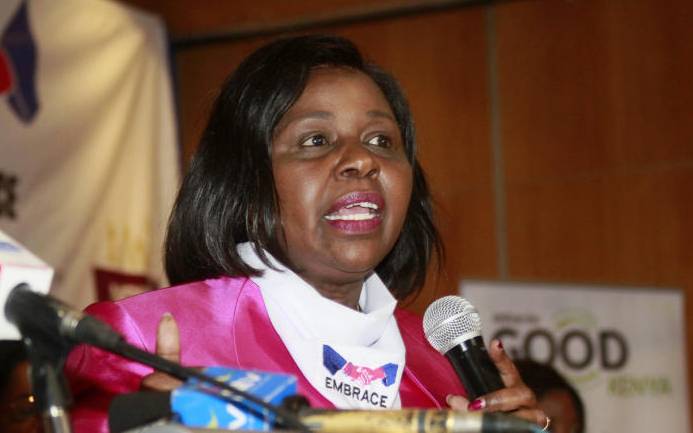 The Controller of Budget has revealed that seven counties in the South Rift are struggling to tame rising wage bills and trim expenditure on non-essential items. In a report that covers the 2018/2019 financial year, the Controller of Budget paints a grim picture of poor budget management in Nakuru, Baringo, Bomet, Kericho, Narok, Nyandarua and Samburu counties. In Nakuru, the wage bill increased by 14.2 per cent from Sh3.75 billion in the first nine months of the 2017/18 financial year to Sh4.28 billion in the period under review. "The county spent Sh751.52 million, which represented 9.4 per cent of the annual development budget of Sh8.01 billion, against the expected absorption rate of 75 per cent," read the report.
SEE ALSO: Fat wages take biggest chunk of counties cash
Controller of Budget Agnes Odhiamo faulted Governor Lee Kinyanjui's administration for failing to establish an internal audit committee contrary to Section 155 of the Public Finance Management Act 2012. The county also delayed to submit its financial reports to the office of the Controller of Budget, something that caused slow implementation of the budget. Expenditure on domestic and foreign travels amounted to Sh239.17 million and comprised Sh128.33 million spent by members of the county assembly and Sh110.83 million by the Executive.
Recurrent expenditure
This represented three per cent of total recurrent expenditure and was an increase of 52 per cent compared to Sh157.2 million spent in the first nine months of the 201718 fiscal year.
SEE ALSO: Controller of Budget to roll out exchequer automated system
All 79 ward reps spent Sh55.24 million on committee sitting allowances against a budget of Sh111 million. "This represented an increase of 366 per cent compared to Sh14.2 million spent in a similar period the previous year," the report read. In neighbouring Baringo, Ms Odhiambo said the wage bill increased by 9.3 per cent from Sh1.9 billion to Sh2.15 billion in the reporting period, which accounted for 63.2 per cent of recurrent expenditure. Expenditure on domestic travel increased by 60.6 per cent from Sh57.46 million in 2017/18 to Sh92.3 million. Ward reps spent Sh65.54 million while the Executive used Sh26.76 million. The 46 ward reps in the county took home Sh4.09 million in committee sitting allowances against a budget of Sh12 million. This represented a decline of 34.1 per cent compared to Sh6.69 million spent in a similar period in 2017/18.
SEE ALSO: State splurges Sh12.1b on travel amid austerity
Mrs Odhiambo's report showed that in Bomet, Governor Joyce Laboso's administration spent Sh668.32 million on development, which translated to 22 per cent of the Sh4.68 billion budget. "A total of Sh3.03 billion was spent on recurrent activities. The recurrent expenditure was 84.2 per cent of funds released for recurrent activities, while the development expenditure was 62.1 per cent of funds released for development activities." In Kericho, Governor Paul Chepkwony's government spent Sh2.04 billion on salaries, which accounted for 52 per cent of total expenditure for the reporting period. The expenditure was an increase of 32 per cent from Sh1.65 billion spent in a similar period in 2017/2018. Only Sh653.77 million was spent on development activities. The 47 ward reps were paid Sh31.99 million as sitting allowances against an annual budget of Sh56.54 million, which represented an increase of 269.7 per cent compared to Sh8.65 million spent in a similar period in 2017/2018. The expenditure on domestic and foreign travel was Sh247.43 million and comprised Sh120.26 million spent by the county assembly and Sh127.16 million spent by the Executive. Elsewhere in Narok, there was a 61 per cent increase in revenue collection from Sh1.7 billion to Sh2.7 billion. But the county's expenditure on non-core items such as travelling increased by 103.9 per cent to Sh243.26 million from Sh119.29 million. Expenditure on salaries and wages consumed 45 per cent of total expenditure in the period under review, which translated to Sh2.15 billion. In Nyandarua, Governor Francis Kimemia's administration improved local revenue collection by 13.8 per cent but incurred huge expenditure on non-core activities such as domestic and foreign travel.
Travel expenses
The report showed domestic and foreign travel expenses went up by 20 per cent from Sh92.4 million to Sh108 million. The Samburu administration also struggled with a high wage bill that took up 65 per cent of total recurrent expenditure. Salaries and wages consumed Sh1.34 billion while Sh727.45 million went to operations and maintenance. The 28 ward representatives got Sh18.59 million as committee sitting allowances, against annual budget allocation of Sh25.47 million.