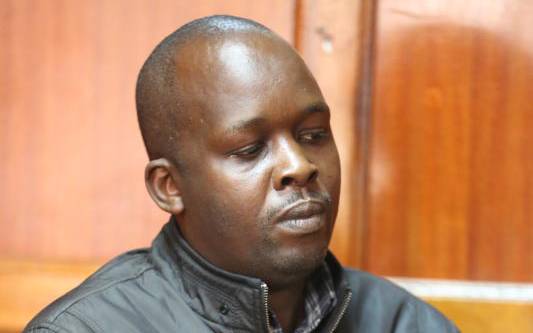 An inspector of police has been arraigned in court in connection with terror activities in Wajir that left a dozen police officers dead. Wilfred Kipkemei Maiyo an inspector of police attached to Kahawa West Administration police post was not required to plead to the charges as the prosecution had an affidavit in court to request for 15 days' custodial orders. The prosecution led by Angela Odhiambo said that they are investigating a case where police officers lost their lives when a police van drove over an Improvised Explosive Device (IED) along Harar road Konton area. Angela told the court that they arrested Wilfred for possible involvement of terror activities and suspicion of being an Alshabaab sympathiser.
SEE ALSO: Driver vanishes with politician's Sh2.1 million in Nairobi
"Your honour, upon quick perusal of the respondents, call data record it was established that he was in constant communication with Robert Alai Onyango through few phone numbers," Angela said. "Your honour the photos of the slain officers are believed to have been taken by the terrorists and shared with Wilfred, we, therefore, want to establish the link between him and the assailants," Angela told the court. The affidavit alleged that Wilfred was in communication with other numbers on and after the attack and the said numbers were located in Kenya and Somalia. "We are apprehensive that if Wilfred is released he will prejudice the ongoing investigations and interfere with potential witnesses," Angela argued. The court heard that intelligence reports indicated that Wilfred had other associates who helped him get the photos of the slain policemen and the scene of the terror attack. "Your honour the respondent before you have the capacity, financial muscle and ability to interfere with witnesses, obstruct arrest of his associates and investigations and thus he should remain in custody," Angela claimed. Angela further told the court that he will be investigated for conspiracy to commit a terror attack, provision of property and services for the commission of a terror attack and being a member of a terror group. The court was to take a judicial notice that terror activities that have happened in the recent past have caused the death of innocent people, damage to property and has created great public anger. In response, Wilfred's lawyer Lesaigor Marcelino told the court that he is opposed to the prosecution application because it is anchored on speculations, rumours, beliefs, and has no legal basis. "Your honour each case should be handled with its special peculiarities, circumstances and facts, there are no annexures to support the allegation as tendered by the prosecution," Marcelino said. Marcelino added that Wilfred is an accomplished police officer with over 20 years' service to the government with a blameless track record. "My client is not a flight risk and there is nothing to show to the contrary, his right to freedom is at risk without proper support or substance," Marecelino added. Milimani Senior Resident Magistrate Sinkiyan Tobiko granted the prosecution 15 days and mention was fixed on July 4.