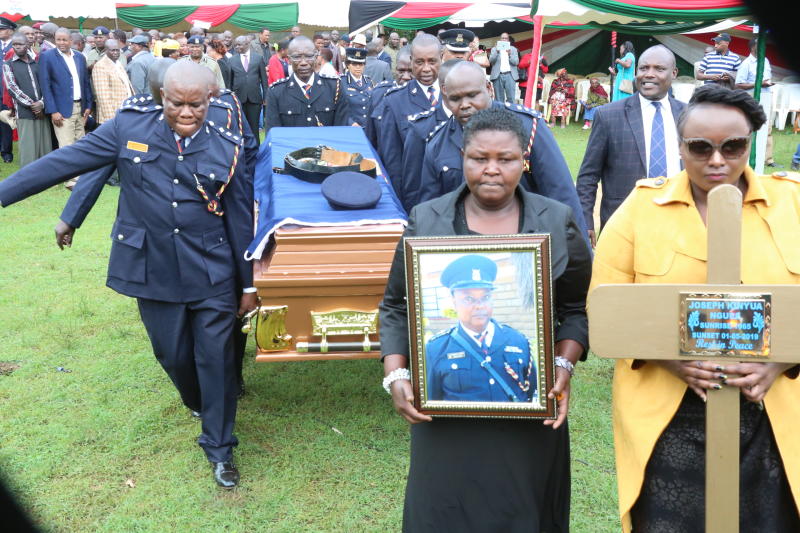 Central
Kinyua was hacked to death on May 1 in Chuka, Tharaka Nithi, as he investigated the murder of a chief.
Chuka OCS Joseph Kinyua, who was killed in Kamaindi village as he pursued murder suspects, was yesterday laid to rest in an emotional ceremony. Kinyua was buried in his home in Iruri village, Mathira, Nyeri County, and the service was attended by top police officers, led by Deputy Inspector General Edward Mbugua. His widow, Lucy Wangui, promised to carry on his legacy of love and integrity in the family. "You have left behind wonderful memories of a loving husband, father and grandfather, we are grateful for every smile and jokes we shared," she said.
SEE ALSO: Builder murdered own kids to get 'revenge' on wife
Mbugua eulogised Kinyua as an experienced, dedicated and disciplined officer. "Kinyua joined the Kenya Police Service on April 2, 1988 and in his 31 years of service he rose to the rank of Chief Inspector and served in various stations across the country, including Murang'a, Kisumu and Tharaka Nithi," he said. Kinyua was hacked to death on May 1 as he led two other officers and a police informer to arrest a suspect in the murder of the area chief. General Service Unit (GSU) Commandant Douglas Kanja described Kinyua as a personal friend who was hard working and concerned about his colleagues. "During the Dusit D2 attack, Kinyua would call me frequently to ask if we were okay. This was a colleague who showed concern for his fellow officers," Kanja said.
SEE ALSO: Woman, 60, dies after son locks her in burning house
Central Region Police Coordinator Judy Lanet and her Eastern region counterpart Eunice Kihiko said Kinyua had paid the ultimate sacrifice in the line of duty. The slain officer is survived by a widow, five children and one grandchild.