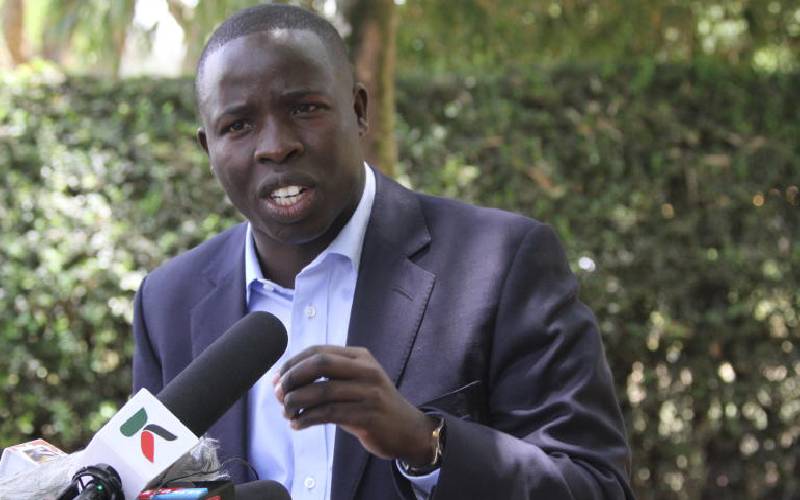 Rift Valley
Barely two years after the elections, their working relationship has continued to fade
When they won through landslide victory on a Jubilee ticket in 2017 general elections, expectations were high they would hit the road transforming Nandi through their envisaged manifesto. After all, they were energetic and Nandi – christened 'Source of champions' immediately took the pride as a leader in youth empowerment – electing the country's youngest governor and Senator. The elections led Nandi Governor Stephen Stephen Kipyego Sang and Senator Samson Kiprotich Cherargei into colourful inaugurations in pompous ceremonies as electorates had confidence their energy as youth would uplift Nandi. Sang and Cherargei share common attributes – being lawyers and also both having attended Kapsabet Boys High School in Nandi, reputed to have produce great leaders in the country.
SEE ALSO: Rift unlikely to give troubled Ruto a shoulder to lean on
Barely two years after the elections, their working relationship has continued to fade to an extent they cannot shake hands in greetings. Although it is said friendship or enmity in politics is never permanent, Sang and Cherargei's seem irreconcilable after bursting only months after the Deputy President (DP) William Ruto reportedly summoned them into a private meeting in Nairobi where he directed them to work in unity. Ironically, Sang worked closely with Cherargei criticizing former governor Dr Cleophas Lagat in the last administration over management issues. Then, Sang was senator while Cherargei, was a member of a group that called itself Nandi Transparency that fronted monitor on use of public resources. However, the only issue that can currently bring the two into a close compromise is when it comes to supporting DP Ruto since both are his allies. This week's purge on corruption in Nandi, where Sang suspended 16 officials among them three County Executive Committee (CEC) members to facilitate a probe seems to have opened up fresh wounds of the frosty relationship.
SEE ALSO: Aden Duale warns Atwoli to keep off Jubilee his remarks
Although Sang says his administration instigated the process, Cherargei calls for his resignation 'instead of suspending small people working under him.' Suspensions followed discovery of millions worth of allegedly stolen construction materials in homes and premises of county officers, which had led to arrest of 11 officials earlier. Cherargei said the governor 'must take collective responsibility saying he should resigned or be forced out of office by Wanjiku (the electorates). "I have been doing my oversight roles all along but the governor has being dismissing me as gossiping. Time has come and people will be arrested. I sent a letter to the office of Director of Public Prosecution (DPP) on August 2, last year requesting commencement of investigation over corruption in Nandi county," said Cherargei who stated that their relationship is so strained that they cannot great one another. Sang however did not pick his calls for comment as calls went unanswered.
SEE ALSO: Ruto camp kept out of Uhuru meeting
Between 2013 and 2017, Sang worked closely with Cherargei, and gave former governor Dr Lagat sleepless nights in their oversighting. Now in their mid 30s, Sang and Cherargei have used public forums as their battle fields hurling accusations as their electorates – concerned with quality service delivery and decorum watch in disbelief. Their war of words have threatened performance since they cannot sit and deliberate on matters that can boost the living standards of residents but instead habour suspicions as they fight for power and popularity. Jubilee chairman Nandi, Sammy Biwot claimed the leaders have abdicated their roles and instead concentrated on political wars. "For the last two years, we have not seen meaningful projects. Those that were intiated by former governor Dr Lagat still stand out. Where do funds allocated to Nandi go?" queried Biwot.
SEE ALSO: Wiper-Diaspora supports cooperation deal with Jubilee
He claimed roads done are only those that have been funded through fuel levy and not county funds, while facilities used in hospitals have been provided for by the National government. A section of residents regretted that since 2017 general elections when they took leadership mantle, they have engaged in public spat instead of service delivery. Sources from both Cherargei's and Sang's camps hint that owing to the popularity vote they commanded in the elections, suspicions is rife with Cherargei showing indications of gunning for governor in 2022. "Their infight is in pursuit of power. This could be undoing for both Sang and Cherargei. Some residents are now of the opinion the youth are becoming a led down in leadership," said a supporter of one of the leaders who did not wish to be named. Their exchanges have often not regarded the occasion as counter accusations erupt even in church functions before clerics and faithfuls.
SEE ALSO: Duale faults Atwoli over calls to remove him from key House slot
At one time in a function in Mosop constituency, Cherargei and Sang were head on against one another over a contentious governor's office building that has stalled in Kapsabet town. "I worked with former governor Dr Lagat who is an Engineer and wanted the office project completed. Unfortunately, I was told investigations are ongoing," said Cherargei, attracting Sang's wrath. "We had Sh 50 million for conclusion of the project in our first and second budget but have been delayed after Cherargei wrote to Ethics and Anti-Corruption Commission (EACC) for investigations. Can you withdraw those letters to enable us complete the building," Sang told Cherargei. He added: "We know Cherargei's character. He was one time during a protest against former governor, hit by a person who is present today in this meeting. I sympathized with him and we assisted in first aid." He went on: "Although he sustained slight injury, Cherargei went to a higher hospital and amplified injury to portray former governor as brutal. If you intend to use same tricks, it will fail because I have no intentions of attacking you." Mr Christopher Koyogi, who served as a civic leader for 27 years under the defunct Nandi County Council says youthful leaders had 'betrayed' their trust in key positions. Koyogi dismissed both Sang and Cherargei saying: "The electorates in Nandi have a right to complain over poor leadership. Health institutions currently in use were either constructed during colonial time or were put up as Nyayo Wards and have only been painted by present administration. They even lack drugs. Auditor General Edward Ouko in his report for Nandi executive in 2017/2018 Financial Year revealed among others, under-absorption of development funds, unsupported pending bills and allocations towards incomplete Early Childhood Development Education (ECDE) centres. The report indicated that 78 per cent of the total development vote of Sh 2 billion was unutilised and residents are likely to suffer a negative effect on the delivery of goods and services. Last month, several residents from Kamwega in Mosop sub-county staged a demonstration to Nandi County headquarters in Kapsabet protesting poor state of feeder roads, lack of staff in health and Early Childhood Development (ECD) facilities and water.