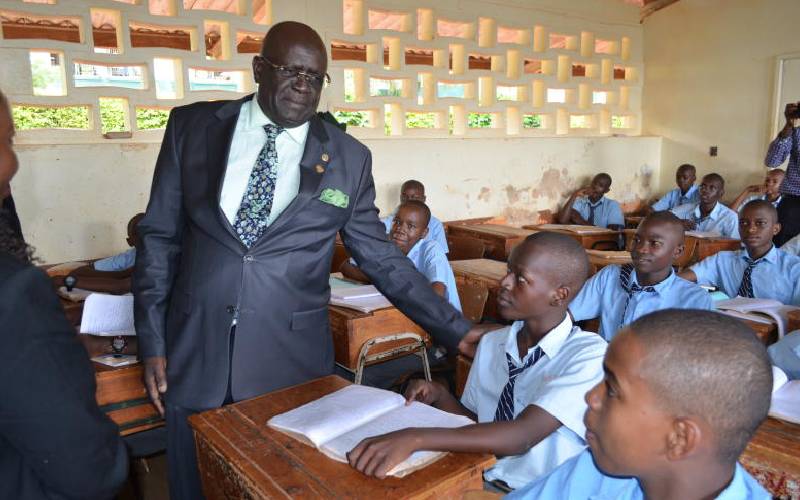 The next 84 days are crucial in reforming higher education, as a Government audit that could inform scrapping of some degree programmes, consolidation of institutions and job cuts in public universities gets underway. The Commission for University Education (CUE), headed by Mwenda Ntarangwi, has until July 31 to furnish the Ministry of Education with a report on relevance of the various degree programmes and staffing in institutions. The directive comes after the ministry listed several degree programmes that do not attract any applications.
30 per cent
Education Cabinet Secretary George Magoha had said 30 per cent of the workforce in public universities was made of academic staff while the bulk of the employees, who account for huge wage bill, were low-cadre workers.
SEE ALSO: Publishers have two weeks to re-submit CBC course materials
"I am calling on CUE to prepare a report regarding the current status of university academic programmes and qualifications of academic staff that support teaching and supervision of students," Prof Magoha said. He spoke yesterday when he addressed "Kenya Higher Education Analytical Work: Knowledge Sharing and Consultation" workshop at a Nairobi hotel. The meeting brought together vice chancellors of public and private universities, CUE and World Bank among other stakeholders. The CS directed that the report includes lecturer, student ratios, as well as facilities and equipment for teaching and learning. "The report should be submitted to my office by July 31, 2019. I expect to see a proposal on how we rationalise existing universities so we can have universities that are of high quality, providing the necessary student support for learning, are involved in relevant research and are globally competitive," Magoha said.
SEE ALSO: Church leaders want bill on reproductive health shelved
He said the findings of the report would inform decisions by Government to continue increasing public resources allocated to higher education. "Vice-chancellors of public universities have expressed concern over a looming cash crisis that could impact negatively the quality of their programmes. The fact that the Government has closed down many private institutions in recent years is also a sign of poor quality," Magoha said. He added: "To streamline higher education in Kenya, six key areas must be addressed. They are sustainable financing, strengthening technical and vocational education training sub-sector, setting up of the Open University of Kenya and expansion of private higher education." Other areas that must be looked at, Prof Magoha said, are resource mobilisation for higher education, improving quality, access and relevance and strengthening research and technology transfer. He called on universities to support the reform agenda by right-sizing and down-sizing their staff to ensure proper staffing norms and rationalisation of academic programmes.
Maximum utilisation
SEE ALSO: App makes language learning easier, but yet to get key nod
"If possible, existing universities and campuses can be consolidated for maximum utilisation of resources. The freeze on establishment of new universities and satellite campuses must be upheld and consolidating similar academic programmes, with the aim of efficiently utilising and maximising on existing resources," Magoha said. He directed universities to specialise in academic programmes in which they were relatively strong. They should also strengthen their academic programmes to contribute to national and global development agenda, he said. "There is need for universities to concentrate on their areas of strength to avoid duplication. We cannot have every university offering the same courses and neglecting the value of setting themselves apart through specific programmes that make them stand out," the CS said. He added: "You cannot be an expert when you stretch yourselves thin across multiple programmes. If you choose to focus on science and technology, then stay focused on it instead of seeking to offer all manner of programmes outside such a focus."
More support
SEE ALSO: E-learning is now the new normal that we must embrace and ensure it works
Magoha called for more support for institutions that demonstrate "innovativeness", entrepreneurship and linkages with industry and communities. "Let such universities be given first priority in forms of incentives by the Government and bilateral partners so they can grow their particular niches and deepen their research capacity," Magoha said. "It is true we have worked hard to provide increased access to university education, but that has at times come at the expense of quality. Time has come for us to have a candid conversation about universities in Kenya," the CS said.