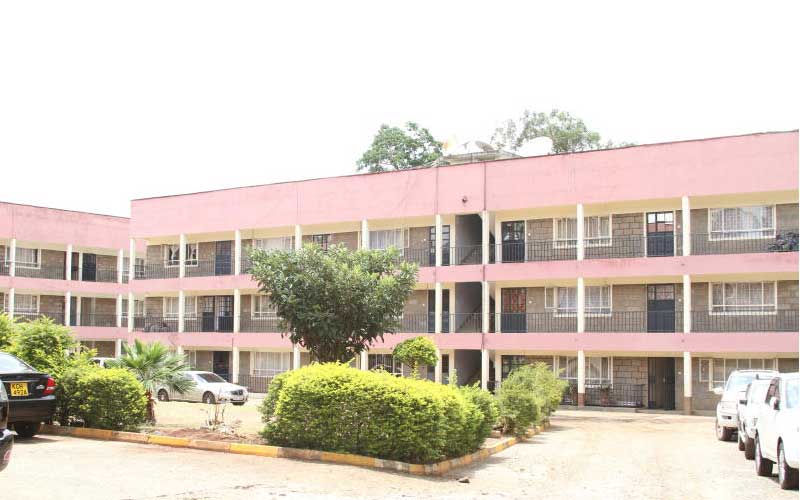 Financial Standard
CEO says retirees suffer "false entitlement" and have been living in houses illegally after ignoring notices and court orders stating they pay rent
Within just a day, Rose Nyaga helplessly watched a large part of her 33 years of sweat and tears vanish. At 60 years, she is now sleeping on the floor of the house she pictured as her retirement home. This is after auctioneers swept it clean in pursuit of rent arrears amounting to over Sh2.5 million. Her Kilimani house is part of a two-acre 40-housing unit belonging to the TelPosta Pension Scheme. The scheme, however, says she and 13 others owe it rent amounting to over Sh25 million. The Scheme, whose portfolio includes investments worth Sh10 billion, is also planning a similar rent distress exercise on its other property along Jogoo Road that has 127 housing units.
SEE ALSO: The five Frenchmen of Bayern Munich
The two and three bed-roomed houses on Jogoo Road's Likoni Flats form part of Telposta Pension Scheme assets. Chief Executive Peter Rotich says the scheme is determined to recover Sh125 million accumulated rent arrears from its tenants. Ms Nyaga says she has been living at Elgeyo Marakwet Court in Kilimani, Nairobi since 1986. Upon her retirement she was promised priority and told the house would be sold to her. Instead, two weeks ago auctioneers descended on the house and the 13 others and seized their household items including fridges, water dispensers, TV sets, and furniture. Residents also claimed they lost some valuables in the operation. Ms Nyaga worked for the now-defunct Kenya Posts and Telecommunications Corporation (KPTC), which she joined in 1979. She was then given a house with monthly deductions as housing allowance. She says that when KPTC split in 2003, they were given offers to buy the two-bedroom houses at slightly over Sh2 million each. KPTC was split into the Postal Corporation of Kenya (PCK), Communications Authority of Kenya (CA) and Telkom Kenya. "When the corporation split in 2003 they opted to sell the houses and we were given offers of Sh2.3 million. The only problem was that all the houses had one title deed and we were told to wait," she told the Financial Standard.
SEE ALSO: How kids are 'ruining' your romantic relationship
She says her problems started when brokers and middlemen invaded the process. "But when the titles came out they started selling to other people who paid even higher prices," she claimed. However, TelPosta Pension Scheme CEO says the 13 suffer from "false entitlement" and have been living there illegally after ignoring notices and court orders stating they pay rent. "They were given a priority in March 2007 and were unable to pay within the 90-day period. They went to court and were given an extended period to buy. They were still unable to buy," explained Rotich. Rotich reckons that the houses along Jogoo Road were offered at Sh1.7 million. He observed that out of the 40 units in Kilimani, 27 were sold and only the 13 are remaining. Ms Nyaga said auctioneers have raided the estate before, though the case is still pending in court. However, according to Rotich, five real estate agents were appointed by the scheme to collect rent for the past few years.
SEE ALSO: Mum praised after sharing 'perfect idea' for parents whose children wet the bed
"They've been staying in those houses since 2007 without paying rent. The pension scheme relies on rent collected from its premises to pay benefits to members. "One is supposed to pay rent until you buy the houses. They have not been sold because of a court case but the courts have ruled that you can distress them for rent," he said. Telposta wants them to vacate if they can't pay the monthly rents but has not issued eviction notices yet. Some of the tenants used to pay the rents but defaulted for months over the years. Rotich explained that a court prevented the Scheme from evicting the tenants but said their continued stay there was hurting the scheme's income as members annually asked for increment in benefits. The 10,000-member scheme pays Sh64 million monthly as benefits to members. "It is in the interest of the members of the scheme that these houses are sold," he said.
SEE ALSO: Parents accuse police of bungling rape case
"There is a court case, essentially we cannot sell the houses without the case being dispensed away with. What happened was not eviction, it was distressing for rent," said Rotich. Other affected residents who spoke to The Standard also claimed that the pension scheme wants to evict them so it can sell their houses to the "highest bidder". Based on the current market value, the houses in Kilimani are estimated to fetch between Sh5 million and Sh12 million each with rent costing at least Sh40,000 per month. Dorothy Muga, one of the 13 tenants raided by auctioneers, said she would not leave. Rotich maintained that the scheme has a right to claim returns on its investments on behalf of its over 10,000 members and have even switched off power for Government in Huduma Centre at GPO over rent arrears. "There is no mandate imposed on the housing scheme to provide subsidised housing to the tenants and the pension scheme is in the business on behalf of 10,000 members so the few tenants who are not willing to pay rent should vacate," he said.