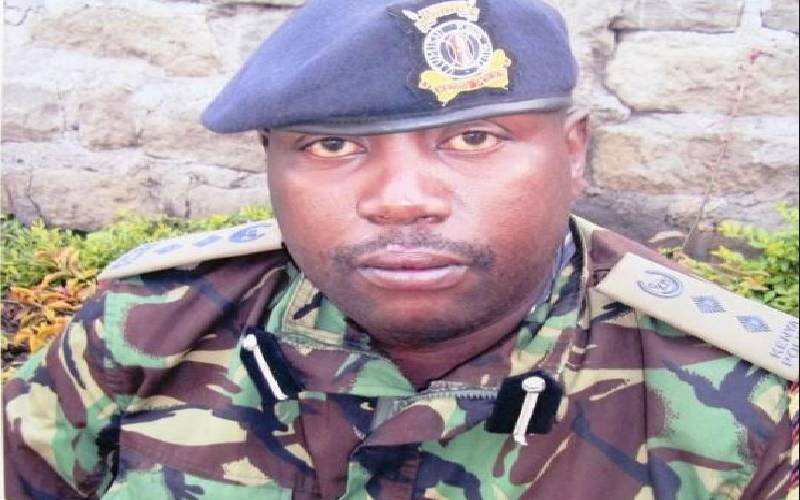 It was the turn of police imposter Joshua Waiganjo to be the victim after an Eldoret car cleaner robbed him of flash disk, a USB cable and other unnamed items. Waiganjo who impersonated a senior police officer in the rank of an Assistant Commissioner of Police and wielded unlimited powers took the suspect, a car cleaner, to Langas Police Station for stealing the items from his vehicle. He was in Eldoret town to visit his daughter in one of the schools within Uasin Gisgu before he realised some items were missing from his parked car at a car wash in Eldoret town. "I am shocked that things I used to see in Nairobi are happening here in Eldoret. I arrived here yesterday and took my car for cleaning only to realise later that some of my items were missing. Those items are useful and that's why I have brought the suspect to the police station," said Waiganjo who recently completed his jail term.
SEE ALSO: Waiganjo demands apology from ex-police boss
When asked whether he is still under police custody for allegedly impersonating police officer, he replied he was a free Kenyan after completing his jail term. "I want peace in my life and people should not look at that as if it's something strange," he said adding that when one is arrested and charged in a court of law, he becomes a free man after finishing his jail term. Waiganjoi said there was no money in the car by the time the incident took place. "I don't want to put this young man in trouble, let him bring my equipment before he goes jail. I know the condition of the cell and do not want him or anybody else to go there with these small cases," he urged. Langas police boss Wilson Abduba confirmed the incident, saying the law will take its cause once the investigation is completed.
SEE ALSO: Nandi senator hospitalised after Friday night accident
"I have just heard of that incident but let me gather enough evidence before we give you concrete information" Abduba said.