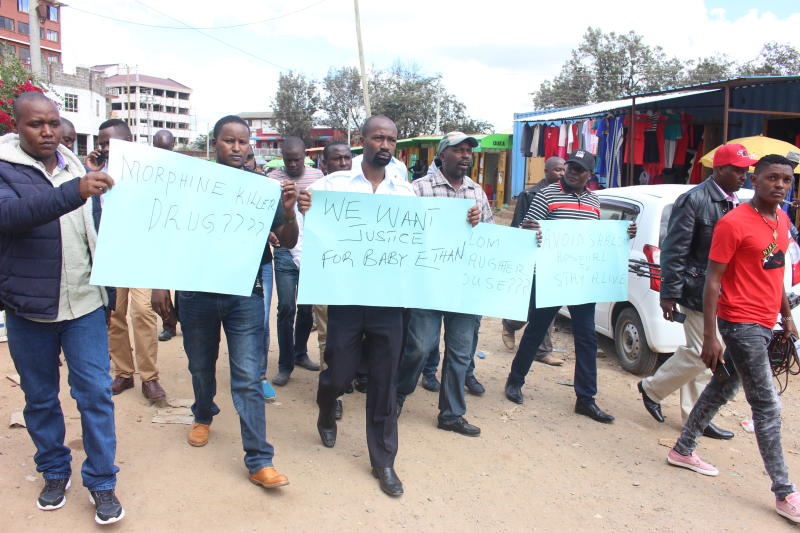 Eastern
Governor Mutua orders immediate closure of Shalom Hospital in Machakos town citing mismanagement of patients.
Shalom Hospital in Machakos County is in trouble once again after fresh accusations against its management emerged, this time from local journalists. Journalists based in Machakos County stormed the hospital on Monday morning and demanded a probe on its operations, following rampant cases of unexplained deaths and poor handling of patients in the facilities. In the latest episode, a KBC correspondent, Jonathan Mutiso lost his seven-month old son, Ethan Muendo on Sunday morning while undergoing treatment. A prescription obtained from the hospital indicates the baby was injected with morphine. Mr Mutiso said a postmortem examination will be done to establish the cause of the boy's death.
SEE ALSO: How locals help authorities identify those defying self-quarantine rules
The journalists stormed the hospital demanding to be addressed by Dr George Onyango who is associated with the hospital but was not available. He later emerged after the arrival of Kenya Medical and Dentists Practitioners Board CEO Daniel Yumbya where they held a closed door meeting. Just two weeks ago, Governor Alfred Mutua called for a probe at the hospital's Athi River branch after a video went viral of an expectant mother giving birth at the facility's reception as nurses watched.
Below is the statement from the Governor's office
Investigations undertaken by Ministry of Health officials together with officers of the Kenya Medical Board, Nursing Council of Kenya, Clinical Officers Council, Pharmacy and Board and National Government's Ministry of Health's Standards department have established the following:
1. Shalom Hospital, Machakos Branch, has myriad process failures,
SEE ALSO: SRC in a spot for ruling out perks for medics
2. The hospital lacks proper procedures and staffing,
3. The death of the infant who passed away could have been prevented,
4. A clinical officer and pharmacist gave the wrong dosage of a drug to be administered - 20 times more that expected.
5. The person who administered the injection was NOT a trained health worker but a hospital attendant with no medical training at all,
6. The drug (morphine) is a narcotic and should not have been the first dose of prescription.
SEE ALSO: Uhuru told to form, fund special research team to find covid-19 cure
7. The hospitals's infrastructure and general condition is wanting.
In lieu of this and many other factors, the following decision has been arrived at:
A. The following employees of the hospital to be arrested and charged at once with various crimes that may include manslaughter:
1. The Proprietors/Directors of the hospital
2. Hospital administrator
3. Doctor in charge
4. Pharmacist in charge
5. Clinical officer concerned
6. Patient attendant who administered the drug
B. My Government has revoked the operating license of the hospital until further notice.
C. The Medical Board has suspended the hospital's operating license until further notice
D. CLOSURE OF SHALOM HOSPITAL, MACHAKOS BRANCH UNTIL FURTHER NOTICE.
E. No new in patients to be seen and those undergoing treatment to be treated until 6 pm today.
F. In-patient patients in wards to be moved to other hospitals including Machakos County hospitals, within 48 hours.
G. Investigations that were started in the Athi River Branch of Shalom hospital to continue with results to be given on Friday of this week.
I urge members of the public to first visit the free Machakos county hospitals that have been revamped and working very well before heading to private hospitals.
My sincere condolences to the family of the child - Jonathan Musau and his wife and their family for this loss. It is very very sad and breaks my heart. God give you strength at this difficult time.
Dr. Alfred N. Mutua, EGH
GOVERNOR