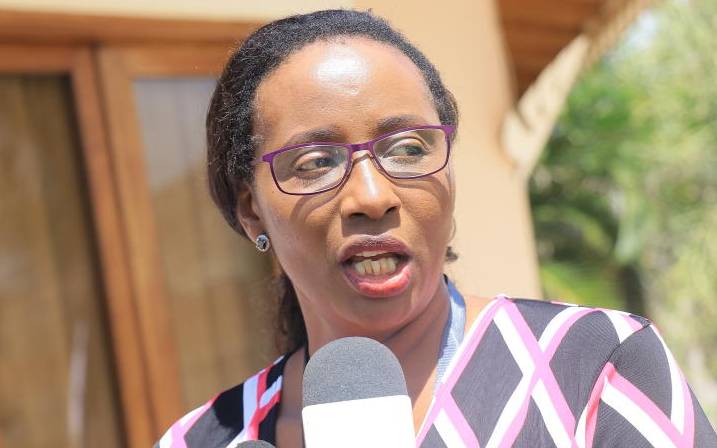 Kenya
Tension is brewing at the Nairobi County Assembly ahead of embattled speaker Beatrice Elachi's court ruling on Friday.
Tension is brewing at the Nairobi County Assembly ahead of embattled speaker Beatrice Elachi's court ruling on Friday. Elachi who was impeached last year over alleged abuse of office is set to know her fate on Friday after she moved to court to challenge her ouster. Nairobi MCAs have now vowed not to reinstate Beatrice Elachi as the county speaker regardless of the court's ruling come that day. Led by the assembly leadership comprising of Majority leader Abdi Guyo and Minority leader Elias Otieno, the ward representatives observed that they had lost confidence in Ms Elachi and emphasized that they would not allow the courts to impose Elachi or any other person on them.
SEE ALSO: Why Uhuru is cracking whip amid coronavirus
"Elachi was our servant but we did away with her because we no longer need her services and she fell out of favour with the members. The court can give her other remedies but not reinstating her as the speaker. We will not accept it," stated Mr. Guyo. Guyo had risen on a point of order during the debate of a motion tabled on the floor of the house. He was adamant that once Elachi's court case was dispensed with, the assembly would fully confirm the acting speaker Chege Mwaura. "We respect the courts but Elachi's ouster was a political process and no court order will make us rescind our decision. The court cannot impose a servant to come and act as an employer," Guyo said. Otieno, on his part, was convinced that Elachi had made it clear that she did not want to work with the MCA's. He said such was clear when she invited the DCI to probe alleged cases of fraud at the institution. The minority leader said that instead of her using the powers and privileges committee to probe the alleged corruption, she resorted to tarnishing the name of the assembly by involving the Directorate of Criminal Investigations.
SEE ALSO: MCAs spent full budget allocation in just six months
"As Nasa we are not willing to work with someone who does not want to work with us," he observed. Minority chief whip Peter Imwatok noted that the Assembly had moved on from Elachi and argued that the assembly should focus on matters to do with deliverables for city residents. Nominated MCA June Ndegwa urged Elachi to focus on the building bridges initiative where she has been a very active participant and leave assembly matters alone. Elachi was impeached on September 6, 2018 for alleged gross misconduct and abuse of power in her absence. She was also accused conflict of interest, undermining the authority of the county assembly service board, abuse of office, gross misconduct as well as failure to show leadership. She however obtained court orders temporarily reinstating her to her position as the case was being determined. On September 10 however, the MCAs stormed her office and dramatically ejected her.
SEE ALSO: MCAs appeal suspension, cite illegality
At the same time, a nominated MCA is facing disciplinary action for 'denouncing' Chege Mwaura as the acting speaker during the county assembly forum concluded last week. MCA Mary Arivitsa was yesterday put on the spot by her counterparts for embarrassing the Nairobi county assembly during the CAF forum in Kisumu. Majority leader Abdi Guyo has now directed that the matter be investigated by the Powers and Privileges committees. "I want to refresh her memory because on September 25, 2018 the house elected Chege Mwaura as the Speaker and he is the only one we recognize. What happened in Kisumu was shaming and lack of disrespect to this house," stated Guyo. Ms Arivitsa was among four Nairobi MCAs that were suspended from the county assembly and its premises for a total 31 days over alleged misconduct last year.