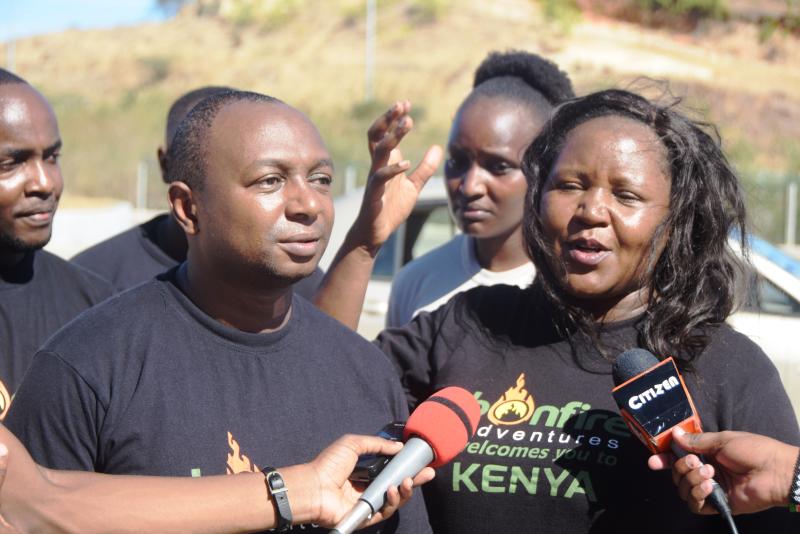 The Madaraka Express Passenger train remained one of the most preferred means of transport for holidaymakers travelling to the Kenyan Coast for Easter festivities.
According to the Acting Kenya Railways Managing Director, Mr Philip Mainga,owing to increased demand for passenger train servive on the Standard Gauge Railway (SGR) over the Easter festivities, they have had to increase eight economy class and two first class coaches to the Inter County and Express trains effective April 17th, 2019.
''Travelling by Madaraka Express has become the preffered mode of transport for travllers at large. The service was recently listed among 13 most outstanding rail passenger services in the world,'' the MD said.
The MD said that the Madaraka Express offers comfortable, smooth ride getting to Mombasa or Nairobi in about 5 hours.
Data from the Kenya National Bureau of Statistics revealed that in 2018, Madaraka Express Passenger train ferried 1.7 million passengers
On Friday, award winning tour firm, Bonfire Adventures had more than 1000 passengers travelling to Mombasa on the SGR passenger trains.
Mr Simon Kabu, chairman of Bonfire Adventures while addressing media at the Mombasa West Railway Terminus said that more and more Kenyans and visitors to the country were now sampling SGR passenger train service.
Bonfire Adventure chartered more than 50 shuttle vans and buses to ferry passengers who were destined for various hotels in both the North and South Coast for Easter holiday
''Owing to speed, comfort, safety and free game viewing along the Mombasa- Nairobi railway corridor, there has been a significant increase in passengers opting to use Madaraka Express service since its inception,'' Simon said.
At the same time, Bonfire Adventures chartered several flights to Mombasa and Ukunda airlifting holidaymakers who elected to spend time at the Kenyan Coast.
Mrs Sarah Kabu, Bonfire Adventures Managing Director said that domestic tourism was growing in leaps and bounds with many Kenyans now able to take up holiday in Kenya and abroad.
''We have tailor-made holiday packages that have enabled many Kenyans to travel outside particularly to destinations like Dubai for holiday,'' she said.
At the sametime, hotels and accomodation places reported full house occupancies with Diani Reef and Spa in the South Coast recording 90 per cent occupancy.
''We are fully booked. Lots of our inhouse guests are locals but we also have a mix on international clientele from Europe, Asia, the Americas and rest of Africa,'' Mr Bobby Kamani, Managing Director of Diani Reef Beach Resort and Spa said.
Boutique hotel, Plaza Beach Hotel located in Bamburi, North Coast was also fully booked according to its General Manager, Mr Denis Gwaro.
At the Nyali Golf View Residence, a modern hybrid accomodation facility located in the upmarket Nyali area, it was full house too as all its serviced apartments had been taken up.
Leading low cost carrier, Silverstone Air that operates daily flights to the Kenyan Coast announced that it has increased its flight frequence to three from two into Mombasa from its Wilson Airport hub as a result of huge increase in passengers.
''Apart from Mombasa, we have also doubled and added extra aircrafts out of Nairobi to Kisumu, Lamu, Ukunda and Malindi as we seek to capitalise on passenger demands,'' Mr Patrick Oketch, Sales Manager at Silverstone Air said.