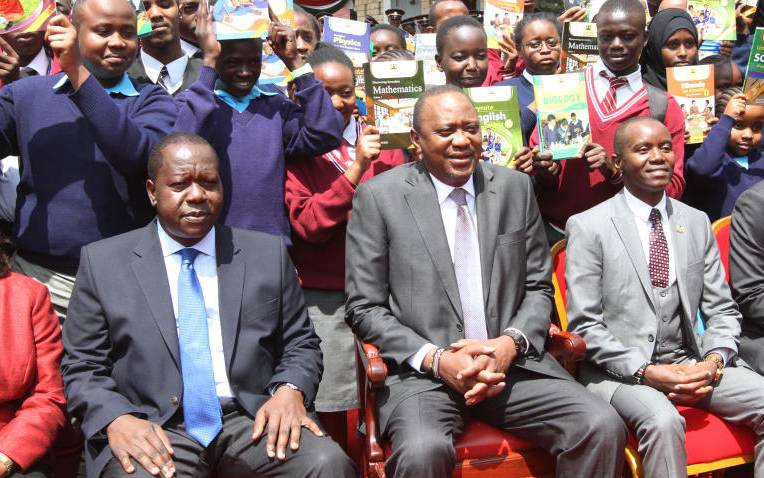 "Can an Ethiopian change his skin or a leopard its spots? Neither can you do good who are accustomed to doing evil" NIV Jeremiah 13:23. This biblical quote is a clear indication of how someone doing evil may have to undergo gradual but not instant transformations to do good. The spiritual quote maybe used to explain the issue at hand-the flip-flopping Kenyan government yet to win the hearts of its subjects and at times employing intimidating tactics to accomplish its mission. The April 18, 2019 Thursday incident where the Director General of Communications Authority of Kenya Francis Wangusi vowed that government would switch sim cards of Huduma Namba registration evaders may have been a surprise. But his statement was a manifestation of a familiar gambit that has been used by the government whenever opposition against its policies arises. Mr Wangusi's statement irked Kenyans and may have angered the top cream leadership. Kenyans were appalled as it appeared that what had been marketed as a necessary project set to solve an array of issues had something sinister beneath it. How could the government resort to blackmail to enforce its policies? What does it plan to achieve by having all citizens registered? Such were some of the concerns raised by netizens.
SEE ALSO: Mr President, where are the nine stadiums, 500, 000 houses?
Huduma Namba
Ours later, State House Chief of Staff Mr Nzioka Waita launched what can be described as damage control. Mr Waita issued a statement saying that Mr Wangusi implied to say that Huduma Namba would be a prerequisite in registering sim cards in the future. And that the government plans to use it to curb mobile phone- related crimes and not switching off lines of defaulters. As reassuring as Mr Waita's statement seemed, traces of doubts perhaps lingered on the minds of those who had been bombarded by Wangusi's statement, which appeared as probable secret step of coercion. It merely underpined a double speak by the government. This came just days after Immigration Principal Secretary Gordon Kihalangwa threatened that passport seekers with no Huduma Namba registration will not get the travel document. The hidden secret sting of coercion may have been spilled further when ODM leader Raila Odinga-now a close confidante of President Uhuru Kenyatta-was quoted in Kisumu on Saturday saying that registration should be made compulsory to Kenyans.
SEE ALSO: Uhuru's fury with Senate stalemate
Mr Odinga's statement may not be taken as empty talk, especially after media aired a speech of Mr Uhuru stating that he sometimes gets advise from 'his elder his brother' Raila. The turn of events preceded media campaigns and public briefing which had been conducted by Interior Cabinet Secretary Dr Fred Matiang'i. President Uhuru Kenyatta later on Friday urged Kenyans to register saying that the number of those registered has hit 11 million.
Housing levy
Beside the Huduma Namba riddle, yet to be explained to a common man on how it is more important than Anyango's or Wambua's identity card somewhere; there is the housing levy facing serious resistance. Housing Levy, hatched under the Affordable Housing Plan under the Big Four Agenda is proving to be another daunting headache under Uhuru's administration.
SEE ALSO: Why Chewing or Miraa has been banned at Statehouse
Everyone wants a house and that's a fact. Despite such a need, the targeted beneficiaries have punched holes in the project and asked several questions yet to be answered by the Government. On Monday noon, April 16, 2019, a statement came from the Housing Principal Secretary Charles Hinga instructing employers to deduct 1.5 percent of employees' salary, as well as paying same amount for their employees into housing fund, beginning from May, 2019. What followed was public outcry as Kenyans decried the skyrocketing cost of living and government piling even more misery on their pockets. The statement from PS Charles Hinga asserted that the government is planning to build 500,000 housing units, and that the target contributors are atleast 3 million salaried citizens. 'Show me 9 stadiums built, laptop projects, new education curriculum, internship for graduates, cheaper price of commodities before building a house for me.' Such was the reaction of some Kenyans who doubt the ability of the government deliver its promises. Once again the ghosts of corruption in the government awakened its woes as it tried to explain the benefits of housing project. Speaking to KTN News' Ben Kitili, PS Charles Hinga emphasized that the contribution was mandatory for the targeted salaried Kenyans. His stark response again hinted farmiliar tactic government uses-shape up and shape up. Period! Asked whether those who are not interested in getting houses can opt out, Mr Hinga said yes. As debate surges, it is apparent that Kenyans are yet to understand various details regarding the housing policy. For instance, who will receive first? What does contribution stop? What happens when one does not need the house and has different housing initiative? What happens to employers who workers housing allowances? Government is yet to respond to such questions just to explain itself.
Fuel tax
Last year, in its 2018/2019 budget, The Government raised the Value Added Tax on fuel products, hiking the price per litre on super petrol, diesel and kerosene by Sh17. It said that this was aimed at raising Sh5.3 billion monthly in the budget. It had to take the valiant protest by the matatu sector and the public criticism for action to be done. Stung by the torrid economic adversity; Kenyans joined the matatu sector in condemning the attempt to burden taxpayer even further. Treasury Cabinet Secretary Henry Rotich always assured taxpayers that the move was not an economic detriment. Lacking proper explanation behind the fiscal policy, the government again failed to explain its decision. It only offered a reprieve to Kenyans by reducing the increment of price per litre from Sh16 to Sh8. The new prices took effect nonetheless, and the prices of commodities soared pounding the pockets of taxpayers.
Writer is a Sub-Editor with the Standard Digital