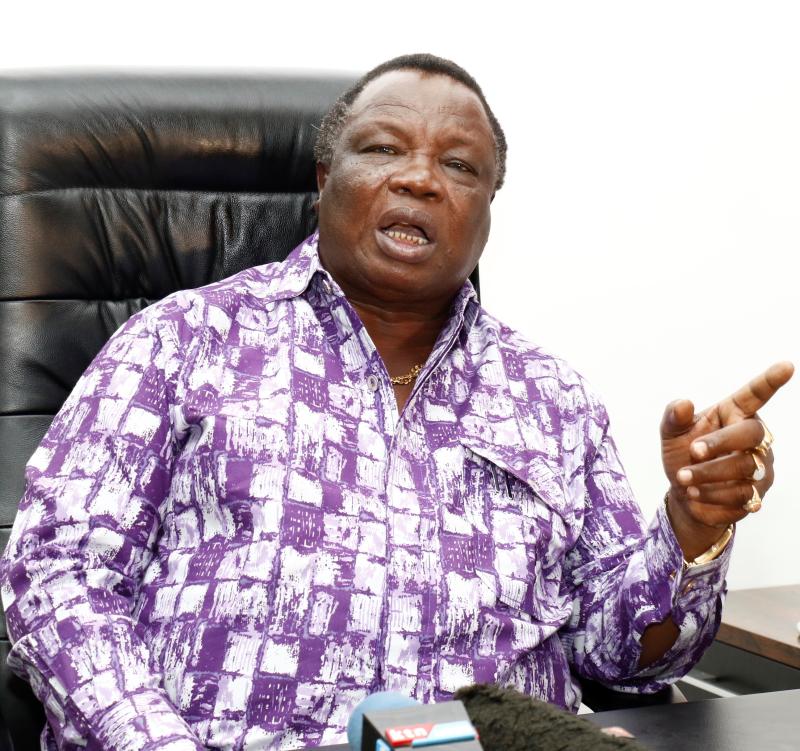 Central Organisation of Trade Unions (Cotu) secretary general Francis Atwoli (pictured) has styled himself as the voice of the voiceless and throws hard punches at his targets. Atwoli spews venomous words, giving his targets little room to hit back. He takes his critics head on and woe unto those who cross his path with little counter attack strategies. Controversy has become his middle name. His trademark statement "Shenzi Sana" has been subject of debate in public forums. His critics - some who can only speak about him in whispers for fear of attracting his wrath - say he is arrogant and intolerant, but the 70-year-old trade unionist insists he is democratic and practical and says things as they are.
SEE ALSO: Uhuru might have to reimpose lockdown
Atwoli makes headlines for taking politicians and senior government officials head on, but it was last week's remarks that Deputy President William Ruto, will not succeed President Uhuru Kenyatta in 2022 that sucked him in the latest controversy. "Ruto's name will not be in the ballot," Atwoli said with a finality, his husky voice reverberating across the Lamu Archipelago where he was conducting a funds drive last week. But Ruto and his allies hit back, accusing Atwoli of jealousy. The DP claimed the Cotu boss was speaking like a
mganga
(a witch doctor). Ruto's allies accused Atwoli of harbouring ill intentions against him and asked whether there were plans to harm him ahead of the 2022 elections, a statement that angered the trade unionist. He said he did not wish the DP any harm, but maintained that he was speaking a political reality that Ruto's name will not be on the ballot.
SEE ALSO: We've a golden chance to fix years of disunity
University of Nairobi lecturer, Prof Herman Manyora weighed in, saying Atwoli's remarks on Ruto were in bad taste and could hurt the relationship between Luhyas and Kalenjins. "You are entitled to your own opinion. However, whatever it meant, it has only one interpretation to majority of Kenyans. Therefore, you owe it to yourself, your friends, Kenyans and DP Ruto to explain what you really mean," Manyora said.
Honest man?
But Atwoli brushed him off, saying he never wished Ruto harm. "I'm not a witchdoctor and Ruto should know this.
Mimi sio mganga. Mimi ni mkristo
(I am not a witchdoctor, I am a Christian)," he said as he whipped out a rosary from his pockets to prove his point. The Cotu boss's admirers, like Kisumu political analyst Jeff Aguko describe him as an honest and brave man who speaks his mind, no matter the gravity of the subject.
SEE ALSO: Uhuru condoles Mandela family
"He is a stickler for decorum. He is rich but humble. He is also brave, honest and reliable. He has no tribal tag. He draws his strength from the millions of Kenyan workers whose interests he represents," said Mr Aguko. After the handshake between President Uhuru Kenyatta and ODM leader Raila Odinga, Atwoli predicted that the country will go to a referendum to change the laws and usher in the position of Prime Minister. "We will change the Constitution whether you like it or not. We will create new positions in the government to help accommodate President Uhuru because he is too young to go home," the Cotu boss was quoted saying. In Western, Atwoli has been ruffling feathers with his frequent attacks on local leaders for failing to forge the elusive Luhya unity. In 2017, he caused a stir when he organised a political rally where he endorsed Amani National Congress leader Musalia Mudavadi as the Luhya spokesman, amid protests from other leaders.
Fired back
In 2003, the trade unionist made news following a nasty exchange with the then Labour Minister Mukhisa Kituyi. In his usual abrasive style, Atwoli had attacked Dr Kituyi, accusing him of running down the ministry by failing to address issues affecting workers. And the former minister fired back angering Atwoli's allies in the labour movement. He said: "There is this irritant who goes by the name Francis Atwoli. Whenever he opens his mouth to speak, he just confirms our worst fears, that he has nothing between his ears." But love or hate him, Atwoli has used his labour movement to advance workers' welfare. During Labour Day celebrations, he often delivers hard hitting speeches, publicly naming employers he claims frustrate workers. He has been to court to stop the government from implementing policies he felt infringed on workers' rights, the latest one being the Housing Levy where the government wants employers and employees to part with 1.5 per cent of the basic salary.