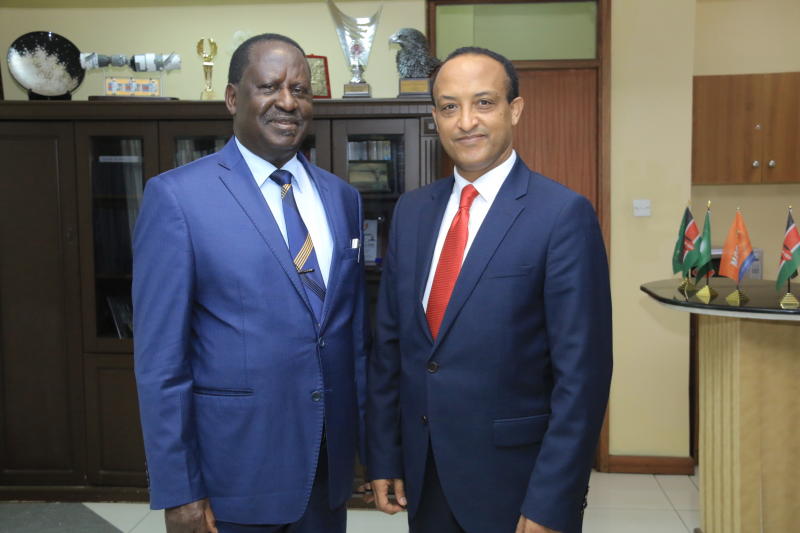 Kenya
He says things need to be done very fast and within set timelines.
The African Union should set up structures that mirror the European Union's to speed up implementation of the continent's development, AU Special Envoy for Infrastructure Raila Odinga has said. Raila said the EU works like a government which facilitates speedy implementation of programmes. "It has a parliament and cabinet with ministers' in charge of specific portfolios. We should move much faster with such a structure," Raila said yesterday on the sidelines of the New Partnership for African's Development (NEPAD) regional meeting on high speed rail. "We need structures that will fast-track implementation of the continent's agenda," he said, as he outlined his experience in the regional office since he was appointed last December.
SEE ALSO: 'It's up to us': How Merkel and Macron revived EU solidarity
Raila said his in-tray is full with activities to accelerate trans-continental movement of people and goods. "A lot of work is being undertaken. I deal with infrastructure issues relating to highway, railway, ICT, fiber optic network and energy," disclosed Raila, stressing the success of his assignment largely relies on the political goodwill. Though he declined to talk about the current happenings in Kenya, he touched on the multi-billion Standard Gauge Railway (SGR), which he said was the brainchild of the grand coalition government. "Economy challenges aside, the rail has eased transport of people and goods. We support the move to extend it to Kisumu and Kampala in Uganda, Rwanda and to Democratic Republic of Congo (DRC). "There is no trade without proper infrastructure. Central Africa Republic is not far from Kenya. It is after South Sudan but it is not easy to export coffee there. Through Lamu port, Kenya can reduced the distance," he said.