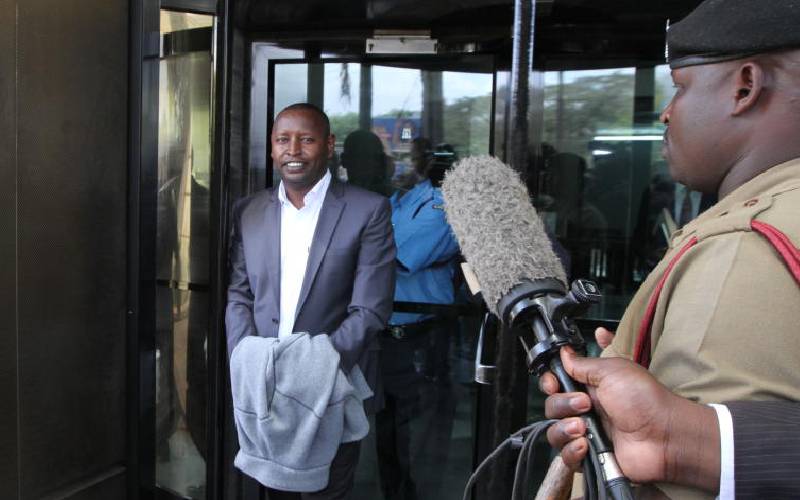 Rift Valley
Ogoti imposed tough conditions that will see the governor barred from accessing his offices in Samburu.
The fight against corruption got an unprecedented shocker yesterday when a court slapped Samburu Governor Moses Kasaine, who is accused of stealing from his government, with a Sh100 million cash bail. It was a first of its kind by Anti-Corruption Court Chief Magistrate Douglas Ogoti, and if adopted by other courts, would send shivers down the spines of those accused of engaging in graft and, perhaps, diffuse widespread claims that the Judiciary is the weakest link in the fight against corruption. No one saw it coming, and the silence that followed the magistrate's ruling told it all. Even the prosecutors were surprised, shaking their heads in disbelief. Mr Kasaine, his team of lawyers and supporters scratched their heads, unsure where to start looking for the hefty cash bail, as reality dawned on them that he might spend the next several nights in remand prison before raising the amount.
SEE ALSO: EACC probes plan to buy Sh570 million building
His troubles were worsened by the fact that his accounts were last week frozen, and a caveat put on his multi-million shilling property in Karen for six months to allow the Ethics and Anti-Corruption Commission to complete investigations into alleged theft of Sh1.6 billion from his government. Mr Ogoti's decision to break the barrier in determining the cash bail for suspected graft cartels caught everyone unawares after a two-hour session in which the governor was charged with four counts of economic crimes leading to the loss of Sh84.6 million in Samburu County. No other corruption case has previously attracted a cash bail of more than Sh20 million, with the suspects walking free as soon as the charges are read. "Considering the seriousness of the offence and the fact that the governor was eating from his own people by trading with a government he heads, he must pay a cash bail of Sh100 million to be released," ruled Ogoti. In the alternative, the magistrate ordered the governor to deposit a bond of Sh150 million and surety of same amount.
SEE ALSO: Ex-KMC boss told to refund Sh11.5m
There has been constant public uproar and criticism from the Director of Public Prosecutions that graft suspects have been getting lenient bond terms, which enable them to walk free as the cases drags on. During the National Anti-Corruption Summit in February, President Uhuru Kenyatta accused the Judiciary of releasing suspects charged with multi-billion shilling corruption offences on lenient bail terms. According to the President, Kenyans' spirits were dampened whenever they witnessed graft suspects released on "ridiculously low" bail terms. Ogoti imposed tough conditions that will see the governor barred from accessing his offices in Samburu. "Since his offices in Samburu, where he operates, is still considered a crime scene where the corruption took place, an order is issued stopping the governor from accessing his office pending determination of an application by the prosecution to have him out of office," ruled Ogoti.
Corruption case
SEE ALSO: State now dips into 'dirty money' to fight Covid-19
The DPP, through senior State prosecutor Alexander Muteti, wanted Kasaine barred from performing his functions as governor for two years, pending conclusion of the corruption case. As if that was not enough punishment, Ogoti ordered the director of Integrated Financial Management Information System (IFMIS) to stop the governor and his 13 co-accused, including his deputy, from accessing the county. His co-accused are Julius Lesseto (Deputy Governor), Stephen Letinina (County Secretary), Daniel Lenolkirina (County Chief Officer), Josephine Lenasalia, Reuben Lemunyete, Linus Lenolngenye, Paul Lolmingani and Bernard Lesurmati. Others are Lillian Balanga, Andrew Lanyasunya, David Loosenge, Geoffery Kitewan and Hesborn Ndathi Wachira. The 13 were, however, not in court.