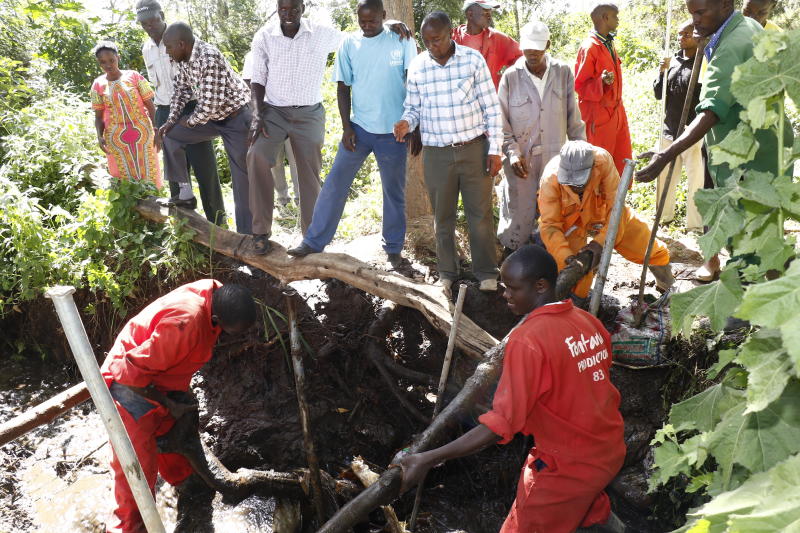 Rift Valley
Eco Roses farm accused of diverting water from River Rongai, leaving the communities downstream parched.
Residents of Rongai yesterday stormed a flower farm, accusing its management of obstructing Rongai River. The residents destroyed pipes leading to reservoirs at Eco Roses farm. They accused the flower farm management of diverting water from the river during the dry season, leaving the people living downstream in Rongai and Mogotio without water. "Every year, residents storm several flower farms to remind them to stop diverting water from the river during the dry season. This water wrangles have been there for the past 10 years," said Kenneth Solangi, a resident of Kampi ya Moto. He said although there had been several meetings with residents, flower farm owners, the local administration and the Water Resource Authority (Warma), most of the large-scale farmers rarely heeded the resolutions made. Soin ward MCA Irene Chebichi said the perennial shortage had affected livestock farmers and education in the area as children had to walk long distances in search for water.
Livestock farmers
"This is the only source of water for almost three wards. Livestock farmers and school-going children are bearing the brunt of the shortage," Ms Chebichi said. She added that Molo River had also been affected by diversion of water to flower farms. She spoke as residents appealed to the Government to intervene and end perennial rows between flower farms and villagers living downstream. "The Government should come up with structures to regulate abstraction of water from rivers during the dry season to avoid these conflicts," said Kefa Ooga. Benjamin Kebut, a resident, said Warma should give regular updates on the status of rivers to act as an indicator on when to start regulating water usage. "Warma should by now have given a status of the rivers in the country and timelines to large-scale farmers on when to stop diverting water," he said. John Mwangi, a resident, said Warma should establish buffer zones on rivers to avoid diversion of rivers. "There should be clear guidelines and buffer zones in wetlands to avoid diversions," he said. The Eco Roses administrator, Catherine Mumbi, said she could not confirm if the farm had licences from Warma to divert water from the river. The authority's Rift Valley regional manager, Bernard Ngoruse, declined to comment.