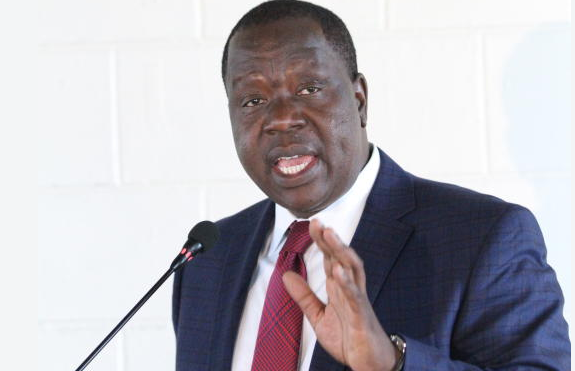 Kenya
Kenya says it has no policy supporting extrajudicial killings and any claims suggesting so, are unfounded and untrue.
Kenya says it has no policy supporting extrajudicial killings and any claims suggesting so, are unfounded and untrue. Interior Cabinet Secretary Fred Matiang'i, said police have never executed anyone as a matter of policy. Matiang'i took issue with some complaints made against the police urging all civil society and human rights activists to be responsible and balanced in their review of police officers. "The police do not execute anyone as a means of policing, such false information often leads to unjustified castigation of police officers in spite of the daily sacrifices they make to protect and serve Kenyans," Matiang'i said.
SEE ALSO: Bogus officers charged with robbery
He added Government agencies are committed to concluding all cases lodged against rogue police officers and deliver justice to any civilian whose rights might have been abused. Many officers who have been found to be involved in such actions have been punished. Matiang'i also welcomed plans to have more constructive self- assessment of the police and declared an annual Criminal Justice Reporting Day where verifiable data will be presented as a tool for measuring the progress made in the implementation of police reforms. In this regard, he revealed that a multi-agency team will immediately be formed to spearhead the planning for this day and also identify key areas for improvement in this endeavour. This team will include members of the civil society and actors in the criminal justice sector.
SEE ALSO: Report on reopening of churches, mosques handed to president as lockdown and curfew expire
Matiang'i made the remarks during a high-level meeting with key players in the Governance, Justice, Law and Order Sector (GJLOS) in his Harambee House office to mark the International Human Rights Day on Monday. He also condemned the recent attacks on police officers and commended officers for their grit to soldier on in the face of such unjustified and despicable attacks. "While reporting police misconduct, we should also speak against unwarranted attacks on police officers while they are on duty," Matiang'i said. The CS said the ongoing reforms within the police are testament to the government's commitment to sustaining a culture of human rights-compliant officers. "Our country has changed and we are on a very different trajectory. We are a secure and attractive destination for investment, and negative unfounded utterances against the police not only dent such a good image but have the potential of discouraging would be investors and visitors to our country," he said.
SEE ALSO: Three 'police officers' charged with violent robbery
He also highlighted other achievements, including Kenya's role in regional and international peace initiatives, which have made the country one of the leaders in upholding rule of law. "We have been trusted by international community in security management in some volatile countries and restive regions across the continent, and we have a collective responsibility to protect such a reputation. This is prove that Kenya's the professionalism of our security agencies is many times, unmatched. " The civil societies have complained of increased cases of extrajudicial killings in the country in past months. Tens of youths have been killed in the so called war on crime. The group that was present in the meeting resolved to step up communication with the government and engage in more constructive dialogue with other actors in the security sector and come up with strategies for progressive rehabilitation of deradicalised petty offenders and integration into the community rather than traditional harsh and punitive measures.