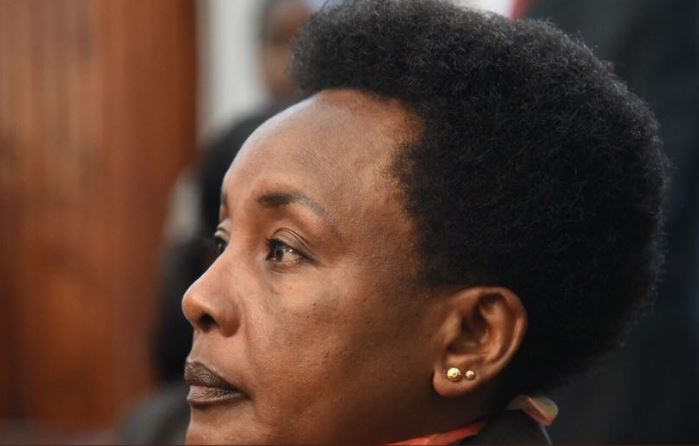 Kenya
High Court suspends Deputy Chief Justice Philomena Mwilu's prosecution; she is facing corruption and forgery charges.
The High Court has suspended the prosecution of Deputy Chief Justice Philomena Mwilu and lawyer Stanley Muluvi until constitutional issues surrounding the case are resolved. High Court Judge Chacha Mwita ruled that there were constitutional questions to be addressed in the petition, especially on grounds that it was a commercial matter and whether it can lead to the arrest of a judge. Justice Mwita has ruled the matter will remain pending until October 9. The Kenyan top judge who is facing several charges of forgery, abuse of office and unlawful failure to pay taxes was arraigned Wednesday morning before the Anti-Corruption Court to take a plea.
SEE ALSO: Ex-MP stares at bankruptcy over Sh6 million debt
Through lawyer James Orengo, Justice Mwilu opposed her taking of plea on the grounds that the charge sheet was defective and the reasons for her arrest wanting. Orengo argued that the charges were criminalising "a purely commercial transaction that took place five years ago" and that there was "no factual foundation" for instituting charges against the Deputy Chief Justice. He submitted that the court proceeds were an abuse of the court because the matters before it fell under the Ethics and Anti-Corruption Commission which had investigated them and given instructions for prosecution. According to Orengo, it was curious that it was the police who brought the charges but not the EACC. "We are going to demonstrate why the Director of Public Prosecutions, on this matter, chose to use the Director of Criminal Investigations who turned out to be user-friendly instead of using the legal regime; the statutory regime that relates to offences created under the Anti—Corruption Act," argued Orengo.
Meanwhile, Chief Justice David Maraga refused to comment on Mwilu's case saying the matter was still in court.