Politics
Ex-poll commissioners face fresh suit to block them from IEBC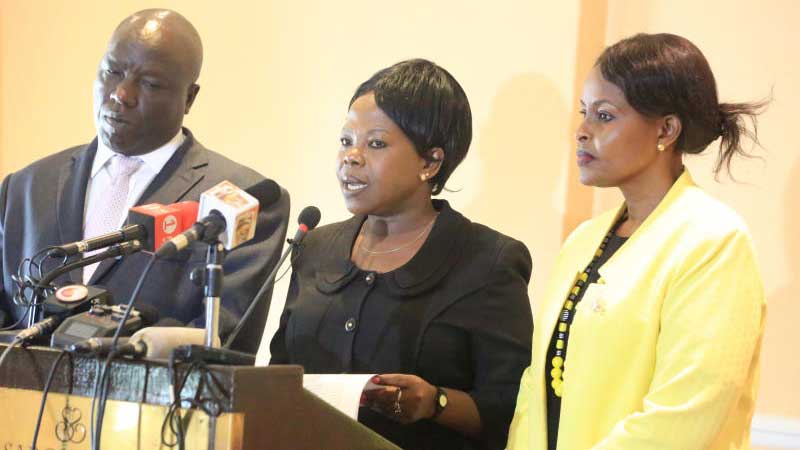 An activist plans to block two electoral commissioners who had resigned (pictured) from returning to office. Okiya Omtatah yesterday insisted that the ruling by Justice Wilfrida Okwany did not quash the resignations of commissioners Connie Maina, Paul Kurgat and Margaret Mwachanya. The activist said he would go to court this week to seek orders against Ms Maina and Ms Mwachanya, who reportedly returned to office last Friday.
SEE ALSO: 2017 poll data errors add to the blunders of tainted IEBC
On August 14, Justice Wilfrida Okwany indicated that the commissioners just tendered their resignation via a press statement instead of writing to the appointing authority (the President). While dismissing the case challenging the Independent Electoral and Boundaries Commission quorum, Justice Okwany said due to the anomaly, the commissioners were still in office since they had not tendered their resignations to the President. Office facilities The ruling arose from a case in which Mr Omtatah had sued them for allegedly clinging to office facilities. The commissioners, who made a surprise return to office last Friday, announced their resignation on Monday April 16, 2018, citing leadership wrangles.
SEE ALSO: Multiple errors in deleted IEBC report of 2017 elections
Three weeks later, the three commissioners swore an affidavit, which was filed in court, saying they had formally left office in accordance with the law by writing to President Uhuru Kenyatta. "That as far as I am concerned, I have resigned as a commissioner but my resignation has yet to be officially communicated and no vacancy has been declared. It can therefore not be said that I am the reason recruitment has not commenced. The inference by the applicant in his application is factually and legally incorrect," the three in separate affidavits stated on May, 8, 2018.