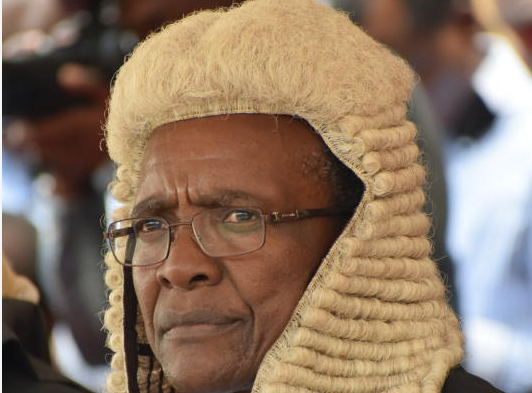 David Kenani Maraga succeeded Willy Mutunga as Chief Justice and president of the Supreme Court of Kenya, the second man to hold that office. Tall and serious looking, he can also relax and throw in ideas to boost the Big Four. He did it in a Kenya Indian Friendship Association (KIFA) public lecture on 'Law, Culture and Society: Afro-Indian Interface in Kenya and Lessons for Us' at the Apa Pant Auditorium of the Indian High Commission. As lectures go, it lived up to its billing, acknowledging the role that Asian Kenyans played and continue to play in the country's development. Among those present were politicians and other personalities including Hindu Council Director Nilesh Bhavsar, the chairman of judge vetting panel, Sharad Rao, USIU Chancellor Manu Chandaria, and Prof Yash Pal Ghai. Rao has a way of putting things, including his unhappiness with the designation of citizens of Asian background as Kenya's tribe number 44. Why number 44 and not number 1, he asked in a previous forum?
Related expertise
SEE ALSO: Rasta Lawyer Mathenge: Legalize it!
Other things came out in the context of the Maraga lecture. Indian High Commissioner Suchitra Durai talked about how India was plugging into Uhuru's Big Four by helping to revive Rivatex in Eldoret. Maraga suggested that KIFA create a foundation that would sponsor skilled Indian doctors to Kenya seasonally to offer surgical and other health-related expertise to poor Kenyans who cannot afford to go to India. And he wondered about former Indian Prime Minister Indira Gandhi's purpose in suggesting the creation of KIFA. The answer to Maraga's question on Indira Gandhi's motive lies in her anti-colonialist father, Jawaharlal Nehru, postcolonial India's first prime minister. Nehru fully supported and urged Asians in Kenya to support the African position in the Mau Mau War, sent a lawyer to defend the Kapenguria Six, and warned then US Secretary of State John Foster Dulles on the folly of siding with British colonialism. Dulles could only plead that because of the Cold War the US had no choice. Nehru's man in Kenya, Apa Pant, was known for identifying with the African cause. In all this, Indira was a confidante of her father and followed in his footsteps. From the pre-colonial days, Maraga observed, people of African and Asian heritage had interacted commercially and struggled together against colonial injustices. Maraga touched on Kenya's achievement of political maturity that shuns colour and ethnicity.
SEE ALSO: I'll be out of here soon, embattled Maraga declares
How else, if not for the political maturity of Kenyan voters, would voters in Imenti, Kisumu, Eldoret and Nairobi elect people of Asian lineage in zones where such individuals are racially and ethnically outnumbered?
Male domination
He deftly handled tricky questions regarding constitutional interpretations and promises and expectations in times of governance transitions. Former nominated MP Sonia Birdi complained about male domination and Asian community failure to implement the Constitution. Mathematics professor Gupal of Jomo Kenyatta University claimed that the 2010 Constitution took away rights and privileges he had enjoyed as a professional and holder of Kenya's EBS honour.
SEE ALSO: Nairobi courts go digital
An education officer and high school teacher from 1959 to 1975, Gupal was one of those foreign professionals who failed to take up Kenyan citizenship at independence because they supposedly were assured that changes in governance would not adversely affect them. He now is required to have costly work permits. Although he applied for citizenship in 1979 and 2013, he wonders why it is not forthcoming. Maraga was sympathetic to Birdi and Gupal and implied that something should be done but he was cautious about constitutional amendments. Although the friction between the promise/spirit of the Constitution and its actual application needs careful looking into, he noted, amendments would open up a Pandora's box. Since the court acts only when a matter comes before it, maybe prominent lawyers like Rao and Ghai, as well as the elected leaders present could take up those community and individual challenges, within the context of the rule of law. They might find sympathetic hearings in court. This was an empathetic Maraga.
Prof Munene teaches history and international relations at USIU; [email protected]