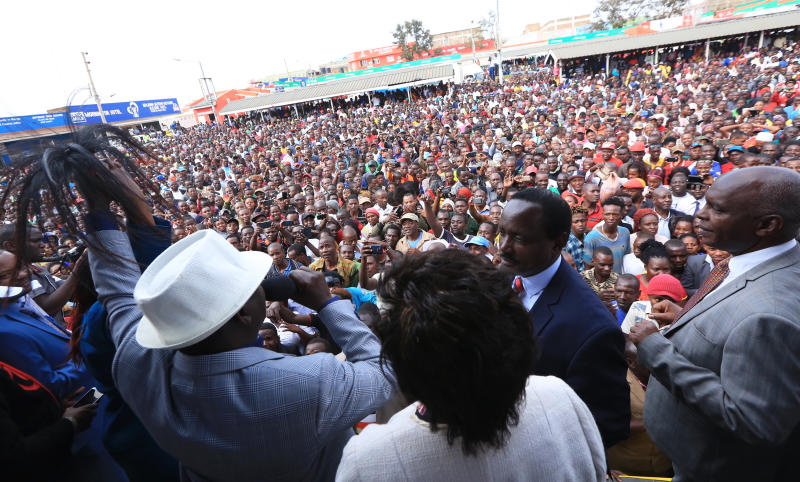 Politics
Politics in Ukambani is set to take a new trajectory after Wiper leader Kalonzo Musyoka gave the biggest indication that he will not play second fiddl
Politics in Ukambani is set to take a new trajectory after Wiper leader Kalonzo Musyoka gave the biggest indication that he will not play second fiddle in succession politics. In a high voltage statement made in the presence of his co-principal Raila Odinga in Kitui on Tuesday, Kalonzo fell short of saying he had been duped twice before only to be dropped like a hot potato through "handshake" politics.
Choice words
The event, the opening of Sunday Standard columnist Makau Mutua's boutique hotel Kitui Villa, was attended by who is who in Kamba politics, including two of the area's three Governors - Charity Ngilu (Kitui) and Kivutha Kibwana (Makueni).
SEE ALSO: MCAs blame Atwoli, Oparanya for Wetang'ula woes and Luhya division
However, the event was dampened by absence of the coterie of Kalonzo's MPs in Parliament. Only area MP Makali Mulu turned up, and while his Mwingi South's Gideon Mulyungi appeared, he vanished almost immediately. Local politics, especially salivation for Ngilu's gubernatorial seat, played a role in the absence of the MPs. But the elephant in the room, we were told, was Raila. "We will not take it easy anymore, not anymore," Kalonzo said in the only political part of his speech which was largely a psalm on Prof Mutua. Before that, Kalonzo had been implored by Ngilu, Machakos Governor hopeful Wavinya Ndeti, County Assembly Speaker George Ndoto and Mulu to keep his eye on the ball.
SEE ALSO: Nairobi's new cycle lanes, walkways prompt 'Uhuru and Raila' night visit
"This time round, we want to be in your government, a full government and one that you control. We are fully behind you. Like my sister Wavinya has said, we are only waiting for your direction and to tell us how high we should jump, not if we should," Ngilu said. Musyoka wa Maiu, a famed Kamba soloist, had earlier seized the moment to tell Raila that he had single handedly killed opposition politics. Cheered on by locals and decked with cash notes by politicians, Maiu waxed lyrical about Mutua's exploits but reserved the political jab to the end, catching all by surprise. From the organisation of the event, Mutua's all-attention on Raila and the protocol flow, it was clear who the boss was. From arrival at the venue to the tour-around-the facility, Kalonzo had to keep pace behind Mutua and Raila. When he spoke, the host paid a glowing tribute to his main guest, only thanking the rest -- including Musyoka -- for "gracing" the event. He had choice words for Raila who later confessed they were "ideological soulmates." "There has never been a democrat of your caliber in this country. You are in fact the People's President. They do not call you Baba for nothing. For the umpteenth time in March of this year, you made yet another sacrifice for this county. They will not be for naught," he said in his "take it or leave it" mien.
SEE ALSO: Kamar succeeds Kindiki as Senate deputy speaker
Taking cue, Raila reminded the people of Kitui that he had paid the ultimate price for the country by risking treason, and oddly "death by strangulation", to get himself sworn as the People's President. Ideally, a discussion of what happened at the Uhuru Park rally would be a hot potato in Kitui, the bedrock of Kalonzo's politcs. Because different accounts of what happened abound, one would be expected to either avoid it or sensitively discuss it, but not Raila: "You heard us say if they announce we announce, if they swear we swear. You saw me take the oath at Uhuru Park," Raila said in a brief moment that must have embarrassed Kalonzo no small deal. And to explain why he left out his running mate from the March handshake, Raila -- ever full of tricks in his bag -- shifted blame to his newfound buddy President Uhuru Kenyatta: "He told me not to come with Kalonzo because I asked him to keep (Deputy President William) Ruto out of it." One of the area leaders who is also a Kalonzo confidant later confided in this writer why area MPs, save for Makali, skipped the event. When he was asked to introduce local MPs, Makali had to resort to former MPs John Munuve and Nyiva Mwendwa.
SEE ALSO: Raila hails country's fight against Covid-19 in Madaraka Day speech
Succession politics
"How would I be expected to follow that man around after what he did to us? In a bolt from the blue, he decided to throw us to the deep end and left us at a time when we expected his full and undivided support. Now we have to navigate the waters quite carefully," the MP said. Other sources confirmed that this is more or less the official position in Wiper, Kalonzo's political outfit. Owing to the oft-tricky succession politics, the party has decided to take everything in its stride- play hardball but also smart. "We have found ourselves in a situation where we have to balance everything out. We may not be quite enthusiastic with the handshake but you never know what it can swing our way. We also cannot place all our bets on the handshake as we do not know its ultimate intentions," another Wiper MP said. At the heart of Wiper strategy is to aggressively build the party brand, fully galvanize the region behind Kalonzo, warm up to the handshake but also keep the options open for a united opposition ticket.
SEE ALSO: Raila's message to Kenyans on Madaraka day
In 2007, Kalonzo unveiled the "pita katikati yao" political brand, resented at the time because of the prevailing situation in the country. Despite earning himself political monikers, Kalonzo has over the years been advised to proudly adopt it. With a Raila-Ruto face-off looming, Kalonzo's acolytes want him to play smart in between the two. A Kalonzo presidential ticket would be a boon to local politicians in terms of retaining their seat. At the moment, the party leader is keen to get the three Kamba counties firmly under him ahead of 2022 race. Ngilu and Kibwana are fully behind him. Their Machakos counterpart Alfred Mutua is however singing his own song but Kalonzo put him on notice. "By all accounts, Wavinya is now the Governor of Machakos. And when the time comes to validate that, I think we will all have to move to Machakos, all of us from Kitui, Makueni, all this is a battle for the pride of our people," Kalonzo announced.
[email protected]