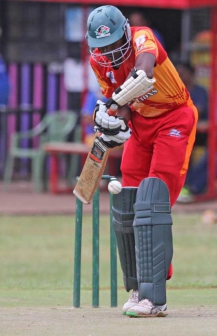 Despite missing three key players, teamwork does it for league winners.
Flawless Stray Lions retained the Nairobi Provincial Cricket League Association Super League title after defeating Nairobi Gymkhana at the weekend.
Despite missing three of their key players, who are away on national duty, nothing could stop the Lions as they fought to a five-wicket win over their hosts.
To make sure that Gymkhana did not get any chance of delaying their celebrations, team manager Thota Shrinivas took to the field to play as he made his eighth appearance this season.
Fielding first, Lions restricted Gymkhana to an attainable score of 213 for 9, gaining three bowling points from their opponents' innings.
Shrinivas told The Standard Sports that they had to seize the opportunity to retain the crown without waiting to do so in their last match of the season.
"We all wanted to have the job done and decided not leave anything to chance. We needed to have our title safe in our hands during our visit to Gymkhana," said Shrinivas.
He added that teamwork came in handy in their title campaign as each member played an integral part that assured them of victory.
"The level of commitment to this course was out of this world. Credit goes to each and every member of the Stray Lions family."
Prishant Shrinivas was Lions' top scorer against Gymkhana despite missing the half ton mark with three runs as he smashed seven boundaries and two sixes.
Nadeem Ahmed scored 43 runs off 28 balls to boost Lions' chase as he hit six boundaries and two sixes but his stay at the crease was cut short when Raj Savala bowled him.
Abraham Vadada, who has been instrumental in Lions' campaign, scored 40 not out as they eased to victory.
Nicholas Suji was superb for Gymkhana as he took two wickets for 34 while Theker and Savala took one wicket each as they succumbed to their seventh loss.
Gymkhana's Veer Dave saw his unbeaten century go to waste as Lions easily chased their score in 35.5 overs.
Dave scored 107 off 132 deliveries, which was more than half of Gymkhana's total runs, but was run out, leaving his side helpless as his teammates failed to shine with the bat.
His captain and opening batsman Karan Kaul was dismissed on a duck on his third ball. Kavi Dosaja was their second best runs scorer with 28 off 37 while Harsh Patel scored 17 off 31 balls.
SH Shrinivas was excellent with the ball for Lions, taking six wickets. Nikhil Date took three wickets for 38 while skipper Hiren Varaiya, who has been topping the bowlers table since the beginning of the season, took two.