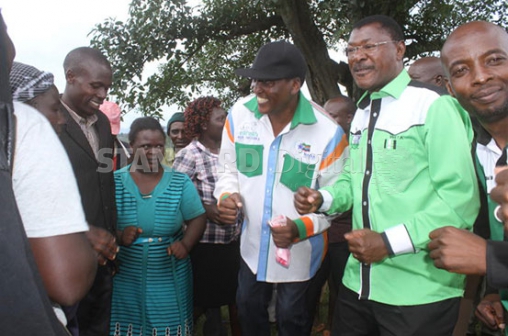 Politics
Seven candidates will today fight for the Kitutu Chache constituency seat.
Seven candidates will today fight for the Kitutu Chache constituency seat. IEBC postponed the parliamentary election in the area in the August 8 elections following the death of one of the candidates. On Monday, IEBC Constituency Returning Officer Hilda Imbo said the delivery of ballot papers, ballots boxes and other materials went on well despite the heavy rains experienced in the region. The constituency has a total of 59,017 registered voters with 115 polling stations across the five wards.
SEE ALSO: Oswago to answer to charges in Sh1.3b poll kits tender case
Polling stations open at 6am. Heavy rains "We have recruited enough staff for the exercise but the challenge still remains the heavy downpour that has delayed the dispatch of election materials. We expect a huge voter turnout," said Ms Imbo. Incumbent MP Richard Onyonka (Ford Kenya) is facing stiff challenge from Jubilee Party's Anthony Kibagendi and Samuel Omwando of ODM. Mr Onyonka has already declared this will be the last time he will be seeking a parliamentary seat.
SEE ALSO: 2017 poll data errors add to the blunders of tainted IEBC
"I have told my opponents to take it easy and allow me finish this term. This is my third term in Parliament and I believe I have done an exemplary job to earn their votes. I have done a marvellous job in improving school infrastructure and road network within the constituency," he said. But Mr Kibagendi said the incumbent wasted his two terms. "The constituency needs a new form of leadership. It is not an issue of politicking but we have a clear-cut agenda to improve their livelihoods. My agenda is to change the way we spend our cut from the National Treasury," he said. And Mr Omwando will be seeking to unseat Onyonka for the second time. He has previously served as mayor in the defunct Kisii municipality. "I am confident this will be my victory. Kisii is an ODM zone and with the overwhelming support from the Opposition supporters, I will defeat my competitors and those who think they can forever cling to power," he said.
SEE ALSO: Multiple errors in deleted IEBC report of 2017 elections
The former Kisii county ODM chairman clinched the ODM ticket beating Kibagendi who later defected to Jubilee. Mr Onyonka won the seat in 2013 on an ODM ticket.