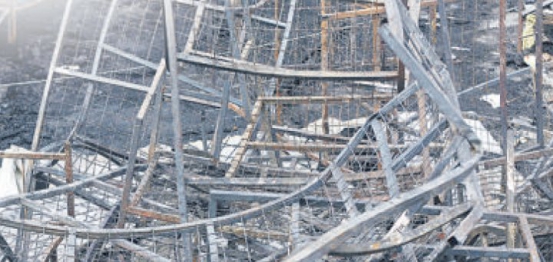 Kenya
The Ministry of Education, boards of governors and parents and teachers associations cannot escape blame for failure to provide safer school environment for the children.
The Ministry of Education, boards of governors and parents and teachers associations cannot escape blame for failure to provide safer school environment for the children. The police have declared that the fire outbreak that killed nine and injured many Form One students at Moi Girls School Nairobi last weekend was an act of arson. The fire has brought to the fore the urgent need for the Government and parents to ask themselves how safe Kenya's educational institutions, especially boarding schools, are. Since 1991 when boys at St Kizito Mixed Secondary School in Meru set a girls' dormitory ablaze, over 130 students have died in school fires across the country. In addition to loss of life, property worth millions of shillings have been destroyed while many students have been heavily traumatised. Last year, more than 100 schools were burnt down, albeit with no deaths.
SEE ALSO: Staffing rules for schools to avert financial crisis
Safety standards
Could the lives at Moi Girls School, or in any other school where students have been killed by infernos, have been saved had investments and policies for safer schools been made? The concept of a well thought-out school safety strategy is to protect students, teachers and other workers from death or injury. According to Dr Serge Theunynck, a senior socio-economist at the World Bank and a leading specialist on school construction, in most countries in Sub-Saharan Africa, building of safer schools has never been a priority. "Most schools lack basic needs such as accessibility, durability, functionality, safety and sanitation," says Theunynck in a study, School Construction Strategies for Universal Primary Education in Africa. Most countries in the sub-region, including Kenya, have not implemented the global programme for safer schools as advocated by the United Nations Office for Disaster Risk Reduction (UNSIDR).
SEE ALSO: Menstrual flow don't stop for pandemics
According to a road map for safer schools developed by UNISDR in conjunction with the Global Alliance for Disaster Risk Reduction and Resilience in Education Sector, school safety should be embedded in three pillars: safe learning facilities, school disaster management and risk reduction and resilience education. This means that education sector policies and plans should always select a safe site for a school, adhere to building codes and performance standards and ensure buildings are designed to withstand disasters. Above all, school buildings that include dormitories and classrooms should have adequate escape routes, such as wide doors and windows that can be opened easily. Unfortunately, whenever a tragedy occurs, education ministry and other Government officials hastily issue lofty safety guidelines that are never followed.
Metal grilles
Such guidelines were issued in 1998 after the fire tragedy at Bombolulu Girls Secondary School and in 2001 when a similar fate hit Kyanguli Boys Secondary School as well as in 2012, when a fire razed a dormitory at Asumbi Girls Primary School. After the three incidents, the Ministry of Education issued directives to headteachers to ensure dormitories' windows were not barred with metal grilles, or doors were locked from outside. In true Kenyan character, those orders were never implemented.
SEE ALSO: A case for postponing this year's KCSE exam
The sad story is that if one was to think of a boarding school as a microcosm of a city, such as Nairobi, Lagos, Kampala or Accra, undoubtedly, the dormitories are the slums. Unlike the administration blocks and school gates, dormitories and kitchens seem to be built in a hurry and without professional inspection. In almost all boarding schools in Kenya, dormitories are too small for the number of students they end up accommodating. With plans to push transition rate from primary to secondary to 100 per cent, overcrowding is expected to increase even further. But no matter how one looks at it, the Ministry of Education, and different school committees such as the boards of governors and the parents and teachers associations, cannot escape blame for failure to provide safer school environment for the children. The crux of the matter is that in all civilised communities, there are basic building and architectural rules and regulations regarding bed space occupancy in shared accommodation. It is vital to ask why it has been so hard to put in place simple safeguards and emergency escape routes. Is it really a security measure to have students locked in from the outside of a building whose windows are barred with metal bars and wire mesh? Unless the ministry and parents are not interested in the welfare and security of students in boarding schools, there is urgent need to establish a safer schooling environment.
SEE ALSO: What awaits learners when schools reopen
As it is now, there are few safe boarding schools in Kenya as a result of rapid expansion without adequate funding to build more classrooms and dormitories. As a result, students are packed into classrooms while in dormitories there is almost no space between beds. In the event of an emergency, students would not escape easily. No doubt the Kenyan public is familiar with ugly scenes of burnt beds, boxes, plastic basins and buckets strewn all over, whenever a school dormitory is razed by fire. "Inappropriate design and poor-quality workmanship of school buildings, which is often a result of limited resources or corruption, have increased risk from both human made and natural hazards," says Fernando Ramirez Cortes, a senior disaster risk management specialist at the World Bank.
Culture of safety
But beyond providing adequate classrooms and dormitories, there is need to build a culture of safety. On the bare minimum, students should be coached on how they can escape from a (burning) building. Teachers and other workers in schools should be in the front line in enforcing hazard preparedness measures, not locking students in. The time has come for parents and the Government to consider having trained security guards on patrol at night in all boarding schools. The night-blaze at Moi Girls Nairobi should serve as a wake-up call towards establishing a national policy on safety in schools. Only then can Kenyans appear to be serious in preventing future tragedies.
SEE ALSO: How Ministry will compensate for the lost learning time