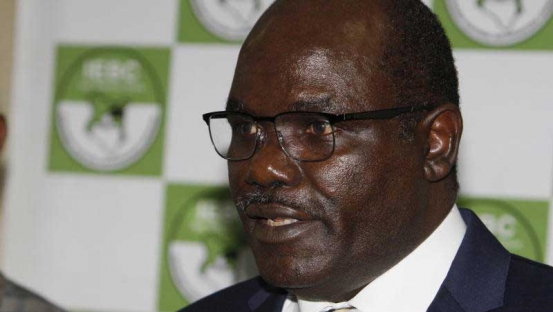 The Independent Electoral and Boundaries Commission (IEBC) chairman Wafula Chebukati has written to the commission's CEO Ezra Chiloba demanding tough answers on what went wrong with the August 8 presidential election. A leaked memo from the chair demanded a raft of explanations, including why the chair's password was used to access the results transmission system. Chebukati also wants to know why satellite phones bought for Sh848 million by the commission were not used to relay data from polling stations as it was supposed to be. Chebukati's memo, which is dated September 5, details numerous failures by the secretariat that formed a key part of the Supreme Court proceedings. The chair also wants an explanation as to why the Kenya Integrated Elections Management System (KIEMS) kits used in the election were not locked to specific locations as it had been agreed. The IEBC chairman raised questions on why some forms used in the election did not have security features as agreed between IEBC and the printer, Al Ghurair of Dubai.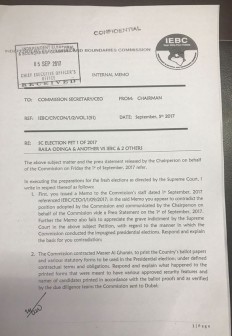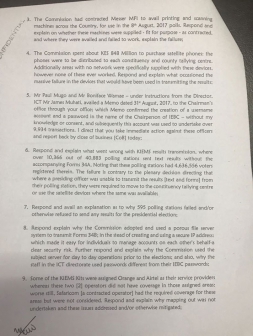 SEE ALSO: 10 contest parties registrar position
The memo comes in the wake of sharp divisions in the commission following Chebukati's move to sideline key people in the secretariat in a new election project team. Chebukati also wants Chiloba to punish officials who created his user name account and password without his knowledge and the account subsequently undertake over, 9,934 transactions. The officers are named as Paul Mugo and Boniface Wamae acting on instruction ICT Director James Muhati. Chiloba is also asked to explain why:
The commission used the subject server for day to day operations before elections and why ICT staff used passwords different from IEBC passwords.
KIEMS kits were assigned Airtel and Telkom service providers in areas where only Safaricom had the required coverage.
Commission experienced non-validation of voters after KIEMS identification.
682 polling stations had an equal number of rejected votes vis-à-vis the number of registered voters.
KIEMS GPRS and Geo-fencing features were switched off from August 5, 2017
Four of the commissioners have since disowned the list but Chebukati in a letter to political parties stresses the independence of the commission and that the law allows him to take the move he has taken.