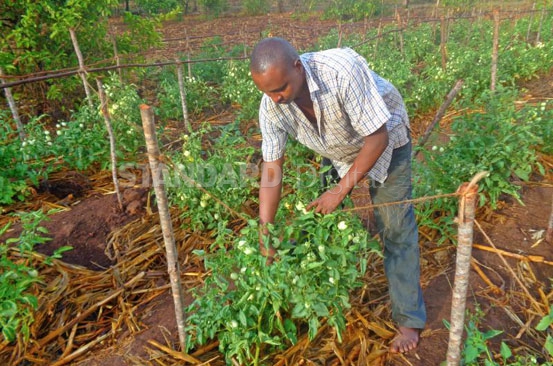 The Kenyan Coast is well known as a great tourist destination. But one woman is also marketing the region as an agricultural hub.
Esther Ngumbi, a resident of Mabafweni in Kwale County was fortunate enough to spend two years in Israel as a visiting scholar and sampled the best of farming technology.
This motivated her to return to her community and empower small holder farmers on modern agriculture.
"My mission is to help transform Coast into an agriculture hub. There is huge potential that can be harnessed," says Ngumbi, a researcher at the Department of Entomology and Plant Pathology Auburn University, Alabama in the US.
She believes bringing revolution on agriculture at the Coast will improve lives of poor women and disengaged youth.
To achieve her dream, she has established Oyeska Greens, a project empowering small holder farmers in Kwale.
The project which was started in February 2014, includes greenhouse/open farming, technology, entrepreneurship, smart marketing and climate smart farming intersect to produce an everlasting change.
"Imagine the number of jobs that would be created through the project, the number of lives of poor women and unemployed youth that would change forever, the much anticipated green revolution happening at the Coast. Yes this imagination can be turned into reality. It is possible and attainable. This is what our project is hoping to achieve," says Ngumbi who also serves a Clinton Global University Commitment Mentor for Agriculture Commitments.
Best practice
Since its establishment, Oyeska Greens has been working with 15 small scale farmers in Mabafweni community. Through the project farmers have produced more than 3,000kg of bell peppers and over 4,000kg of tomatoes.
"Many communities in Africa do not get the best from agriculture. Due to a heavy reliance on rain fed agriculture, the returns are minimal and many of the farming practices they use are outdated. The project aims to empower the farmers to embrace modern farming methods," she explains.
In Oyeska Greens, farmers do Bell Pepper Production, tomato production and green house farming.
She says farmers were first trained on bell pepper farming by a Kenya Agricultural Research Institution scientist when the project was started.
Farmers learned about bell pepper production including nursery preparation, transplanting and integrating pest management.
In July 2014, the first year of bell pepper production, the farmers harvested over 300kg which they marketed in Mwembe Tayari market.
A good plan
Later in July, she says, the farmers worked together to set up tomato nurseries which they later transplanted to their farms.
"Tomatoes and bell peppers are grown from April/May to July and watermelons in October. We have three small greenhouses and we are scheduled to add one more soon," Ngumbi says.
One of the key principles the project instils in the farmers is importance of planning.
"Farmers who make the most out of farming have a plan. Before the planting season begins, they plan on what they will grow, when they will grow it, the quantity, as well as figure out a rotation plan. They visualise and see it before it happens," she says.
One of the beneficiaries of the project, Silas Musyoki of Mwaboko farm, is now a thriving vegetable farmer.
"With the training I got from an extension officer working with Oyeska Greens, my farming techniques improved drastically. I was taught that farmers need to treat farming like a business," he adds