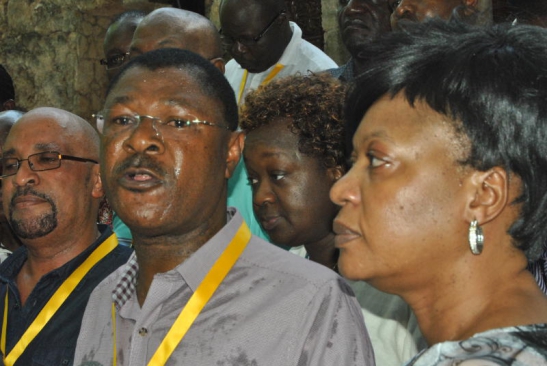 Coalition for Reforms and Democracy (CORD) leaders have criticised Government's plan to construct a wall on Kenya's border with Somalia, saying this will not deter terror attacks.
Addressing the press in Mombasa on Friday, the leaders said Jubilee had resorted to "helter skelter security strategies" in the wake of the April 2 massacre in Garissa where 148 people were killed.
The more than 11 CORD leaders, led by Senator Moses Wetang'ula, questioned the wisdom behind the construction of the wall, saying the strategy has been tested elsewhere and flopped.
They accused the Jubilee administration of using terrorism as an excuse for unrestricted spending on costly projects like the construction of a perimeter wall along the Somalia border without Parliament's approval.
The senate minority leader said the Government has failed the bereaved families of the Garissa terror attack and should not ride on the incidents as an excuse to indulge on a spending spree on strategies that have failed elsewhere in the world.
"It is a shame that this government did not even see the need to hold a national requiem mass for the 142 students killed in Garissa. This was the third largest number of students to be killed by terrorists in the world," Wentang'ula said.
The CORD leaders spoke in Mombasa where they are attending the Senators and County Assemblies Speakers' workshop.
They asked the government to tell Kenyans how much the wall would cost, where the money would come from and whether the project was tendered. "Israel built a wall to separate its territory with Palestine, the US has a wall to deter illegal Mexican immigrants and all these walls have not achieved intended goals," said Wetang'ula.
Mombasa Senator Hassan Omar said the directive to build the wall is illegal and goes against the Constitution and the country's international obligation.
But Senator Kiraitu Murungi, who was attending a seminar for senators alongside his CORD colleagues, defended the government and faulted the Opposition for not offering an alternative solution to the insecurity problem.
"Insecurity is a national problem and the Opposition should offer constructive criticism, not oppose everything the government is doing for its sake," said Murungi.
Interior Cabinet Secretary Joseph Nkaissery says the wall will reduce cross-border entries, especially by the Al-Shabaab militants who have continue to attack Kenya.
Other than the wall, Deputy President William Ruto has also asked the United Nations to close the Dadaab refugee camp and relocate more than 500,000 Somalis.
Ruto gave UNHCR three months to close the 24-year-old camp, failure to which the government will start to relocate the refugees.