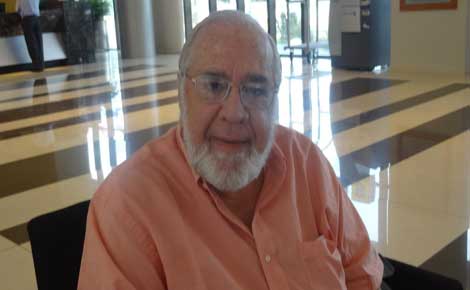 Former President of Ecuador Dr Gustavo Jose Joaquin Noboa during the interview in Asuncion, Paraguay. [PHOTO: JOE OMBUOR/STANDARD]
I spotted the burly former President of Ecuador, Dr Gustavo Jose Joaquin Noboa chatting casually with admirers at the six-star Bourbon Conmebol Convention Hotel in Asuncion, during the sixth Global Peace Convention that ran parallel to the second summit of the Latin American Presidential Mission. I strode towards the group, diffident but brave. Nobody stopped me. The badge dangling from my neck, announcing to all and sundry that I was a journalist, came in handy when the former Head of State with a thick crop of white beard and moustache spotted it and turned to me with the question, "Journalist from Africa?" "Yes, from Kenya," I answered proudly. "I would like you to spare time for me when you are through with your friends." "Sure," he replied. "Sit there. I will soon join you," he said pointing to a table surrounded by plush seats. True to his word, he came and sat next to me.
"I have been to Kenya, the land of Mount Kenya and Jomo Kenyatta. My English is not so good though," he said haltingly in a deep octane voice. "The little you know will serve us for now," I said with a grin, my notebook and camera ready. "So what do you want to know? I was President of the Republic of Ecuador from 2000 to 2003 after serving a stint as Vice-President to President Jamil Mahuad from 1998. I succeeded Mahuad as President with the popular support of Ecuador's indigenous people, a day after a military coup that deposed his government after a tumultuous two year rule." He continues: "I took the reins of power at a time the Ecuadorian economy was in recession. I made the revival of the economy my first priority and temporarily adopted the dollar as our currency in a bid to tame a fleeting inflation that was causing unrest among our people. I passed the baton to Colonel Lucio Gutierrez in 2003 after he emerged victorious in elections held in December 2002." He describes himself as a democrat who believes in passing the baton as the prerequisite to good governance: "It is a pity some African Presidents are treating power as personal property they can pass at will to relatives and close friends, unaware that doing so is a recipe for chaos. One is even contemplating being succeeded by his wife. What a pity! It is high time they learnt that power belongs to the people," he says. Dr Noboa urges the Global Peace Foundation that initiated the Latin American Presidential Mission to do the same for Africa where, in his words, "the likes of South Africa's Thambo Mbeki, Botswana's Katumile Masire and Mozambique's Joaquim Chissano are already using their experience to mould a better Africa." On the South American Presidential Mission launched in 2012 during the Global Peace Convention in Atlanta, Georgia, he says: "It has proved a useful tool indeed for our unity as we discuss all problems affecting our region with a spotlight on individual countries. We recommend to the serving presidents what we feel benefits their people." Dr Noboa says he was proposed by President Mahuad as his running mate in the 1998 presidential elections after he finished his ten year term as Chancellor of the Catholic University of Guayaquil. He was sworn in as Vice-President on August 10, 1998 after Mahuan won the election for a troubled term that ended abruptly with a military coup. He had previously served as the Governor of Guayas Province between 1983 and 1984. Born in 1937 in Guayaquil, Noboa studied political and social sciences and holds a Doctor in Laws degree from the Catholic University of Guayaquil where he later served as Chancellor. He has also served as Vice-President of the Esquel Foundation, an organisation dedicated to democracy and sustainable economic development. After quitting the Presidency, Dr Noboa returned to the university where he combined teaching with writing books and giving public lectures. He cites political persecution back home by his successor's government as the reason why he applied for political asylum in the Dominican Republic in 2003, returning to his mother land after the Ecuadorian Supreme court annulled a case against him ruling it unconstitutional. He has also served as Vice-President of the Esquel Foundation, an organisation dedicated to democracy and sustainable economic development.