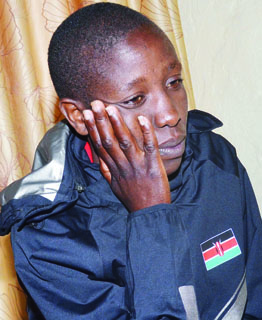 Valentine Jepkorir during an interview with FeverPitch on Wednesday. [PHOTO: BEVERLYNE MUSILI / STANDARD]
BY JONATHAN KOMEN
Valentine Jepkorir, who was left behind when the Kenyan team left for Moscow on Tuesday, finally departed yesterday.
Kenyans were on the edge after the inferno at Jomo Kenyatta International Airport forced the closore of the region's busiest airport. Some athletes were forced to travel to neighbouring Uganda to travel to Moscow where the global competition is starting Saturday.
Jepkorir has a mountain to climb as she lines up for the women's marathon contest at 1pm (Kenyan time) against the backdrop of a 12-hour flight from Nairobi.
Jepkorir departed yesterday at noon aboard a Kenya Airways flight to Schipol Airport in Amsterdam, where she is expected to connect to Moscow's RU Sheremetyevo airport.
Jepkorir was left at the Laico Regency when the team left on a rescheduled flight.
The runner from Kapkitony Athletics Club in Keiyo South told FeverPitch by telephone yesterday: "I am grateful that I could finally secure a flight. I am not worried about arriving in Moscow a day before the competition. Let me reach there and give it my best shot," said Jepkorir.
Jepkorir will join defending champion Edna Kiplagat, former Commonwealth Games champion Lucy Kabuu and Mumbai marathon winner Margaret Akai in Moscow.
Jepkorir and Akai will test their young legs in the women's marathon showdown scheduled for August 10 at 3.30pm.
Jepkorir is banking on the 2:24.20 she ran in the Mumbai Marathon while Akai is laying claim to the 2:23.28 she registered at the Daegu Marathon.
"I was sleeping in my room when I woke up to find the team had left. I knocked on the next door but there was no response. When I went down to the lobby, I was informed that the team had left.
World champion
Twice Olympics and world champion, Ezekiel Kemboi, will leave today (see other story on this page).
Finally, the time has come. After much jostling, the planets in the athletics universe will align tomorrow afternoon and the stars are set to collide in the most spectacular fashion imaginable.
At the Luzhniki Sports Complex in Moscow, Russia, two pedigree practitioners who host the finest athletes in the world – Kenya and Ethiopia – will enter an exceptionally brilliant battle with each other under the enchanted gaze of thousands present in the Russian capital.
Millions more will be watching on television, reading newspapers and surfing the internet; all in a bid to catch some of he action.
Dreams will come true. Others will turn into nightmares.
Women's title
But Kenyan and World Championships women's title holder Edna Kiplagat has a strong hand against the formidable Ethiopian and Russian line ups.
Kiplagat, who started her athletics career while a Standard Eight pupil at Kapkoi Primary School in Keiyo North, is keen to stretch her running prowess from Daegu to the streets of Moscow.
Compatriot Kabuu, who boasts an impressive 2:1934 personal best, which she posted in Dubai last year, is also eyeing the 42-kilometre silverware.
"We will work as a team. It's only through faith and cooperation that we can excel. I have studied the course in Moscow on the Internet and realized that there is a hill and I hope the hilly terrain here at home will be helpful," said Kabuu, who holds a brilliant 66.09 minutes over 21km, a time she posted at the RAK half marathon last March.
The men's 10,000m final will takes place at 5:55pm, where fifth-placed Olympic athlete Bedan Karoki, Africa champion Kenneth Kipkemoi and Paul Tanui will take on a strong Ethiopian line up.