Do not be too quick celebrate Kiambaa win, pitfalls lie ahead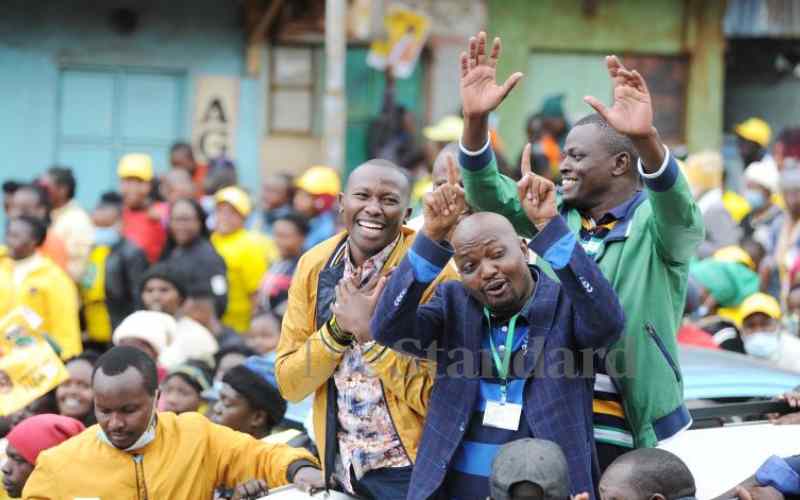 With slightly over a year to the 2022 General Election, last week's by-elections in Kiambu County provided a glimpse into the state of the nation on the back of the debilitating effects of the corona pandemic, a weakened economy and a citizenry clutching at hope for better prospects in the future.
You cannot begrudge the Kiambaa constituents their belief in the UDA candidate making their lives better. Politics, after all, is supposed to offer solutions to people's problems. John Njuguna Wanjiku could be a surprise choice. As far as the pundits knew, he and his challenger Kariri Njama were pawns in a high stakes political game in which the "real" winners will retreat to their boardrooms with self-congratulatory messages and pats on the back as the losers bite their lips and kick their feet.
Indeed, it is tempting to conclude that what happened in Kiambaa was a reawakening of sorts. But it is not. Once again, as has happened before in Bonchari, Juja and London Ward, Kiambaa offered the ruling class a playground to host a contest of their egos. A political game that is replete with the glaring absence of a pragmatic ideology is a recipe for dead-end politics.
In the background were echoes of a misfiring economy and a ruling party torn apart by a fratricidal war, accentuated by a falling out in the top ranks and a wider public looking at the politicians with a jaundiced eye. By and large, the voters are on their own.
Consider that the provision of education, medical, water, security, transport even quality and standards control are all in the hands of private sector. And hence the thriving and often exploitative private sector. If you want your child to excel, don't take them to the public school; take them to a private school; the best hospitals are private; many don't trust their business or their lives with the police, a private security guard does a better job and is more friendly and responsive than the police; you need uninterrupted supply of water, drill a borehole. Whereas in most cities public transport is state-owned, in Kenya it is the opposite. Cartels have a firm grip on the PSV industry despite it being less secure, inefficient and costly. In short, it would take an angel to put the issues of Wanjiku right, centre and left of the national agenda.
Mature democracies are characterised by high-performing economies and a responsive political class and tight social fabric. These democracies do not necessarily have clean politics as demonstrated by America's experiment with Donald Trump.
However, the built-in systems ensure accountability which in turn makes the leaders responsive to the needs of those who elected them. Recall that when it mattered most, America's institutions stood up to Trump. The takeaway from that near fiasco was that democracy doesn't function in a vacuum and most importantly, it is not an end in itself. In the end, it was the social fabric that held together and America is back again as President Joe Biden is wont to say. For as long as politicians know there is a price to pay for bad policies, there is going to be a motivation to do the right thing.
Here at home, the refusal to link politics and the bad state of things is the bane of our democracy. Our politics obsesses with the optics and little with results. This form of politics is usually characterised by a pervasive culture of rent-seeking, name-calling and is short on policy. It is not solutions-driven. Worse still, its motivation remains a means to an end to the politicians' needs and wishes and drama.
The fact that rather than offer a viable alternative, the Opposition now enjoys the trappings of office and has somewhat provided cover to an under-performing administration should be a cause for worry. Meanwhile, DP William Ruto remains an outsider in government and hopes the masses will forgive him the sins of his party.
This desire to ascribe new reality and make-belief scenarios makes a mockery of the voters' will to choose their leaders - those who will solve their problems and make it their business to do so. Consider "governing by consensus" - as is the case right now; does the voice of the voter count for anything? Does accountability matter?
Mr Kipkemboi is Partnerships and Special Projects Editor, Standard Group