Trump blames media in Pittsburgh synagogue massacre
AMERICA
By AFP | October 30th 2018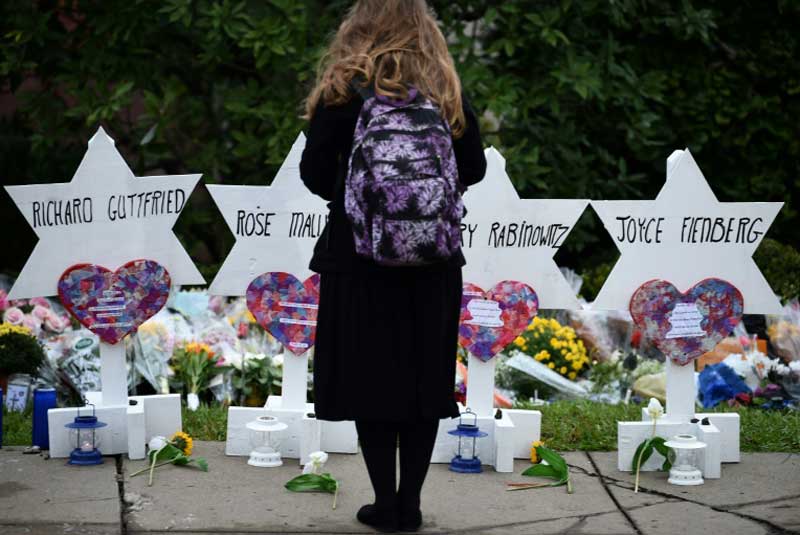 President Donald Trump blamed the media Monday for pre-election "anger" as the nation mourned the loss of 11 lives in the weekend shooting at a Pittsburgh synagogue, the worst anti-Semitic attack in recent US history.
As suspect Robert Bowers made his first court appearance, in a wheelchair, Trump lashed out at critical journalists, blaming them for extremism ahead of next week's midterm elections.
"There is great anger in our Country caused in part by inaccurate, and even fraudulent, reporting of the news," Trump tweeted.
"The Fake News Media, the true Enemy of the People, must stop the open & obvious hostility & report the news accurately & fairly. That will do much to put out the flame of Anger and Outrage."
Trump has said he plans to go to Pittsburgh, where the 46-year-old Bowers is accused of carrying out the massacre during Saturday prayers at the Tree of Life synagogue.
However, with fierce arguments erupting over whether Trump's own daily rhetoric is feeding the increasingly dangerous climate, even the subject of a possible visit has become a bone of contention.
Jeffrey Myers, a Tree of Life rabbi who was present when the attack started, told CNN that "the president of the United States is always welcome."
But also speaking on CNN, a former president of the synagogue, Lynette Lederman, told Trump on Monday to stay away, calling him a "purveyor of hate speech."
Bowers -- who told police he "wanted all Jews to die" and could face the death penalty over the massacre -- was taken into custody following a firefight with police.
Pasty faced and balding, he was wheeled into court Monday for a three-minute hearing, making little comment other than to respond "Yes" and "Yes Sir" to procedural questions from the federal judge.
The judge scheduled his next court appearance for Thursday at 10:00 am, and until then remanded him in custody.
Outside the synagogue, meanwhile, a trickle of mourners braved the raw cold to leave candles and bouquets.
Eleven identical white wooden stars were laid out, each inscribed with a name of the slain, together with a pink heart and a verse from a psalm: "The Lord is close to the broken hearted and saves those who are crushed in spirit."
Even there, the prospect of a Trump visit was causing discord.
"Not if he's going to divide us further," Arlene Wolk, a neighbor, said. "This is not a political event, but personally I'd just as soon he not come."
Adam, another local, who did not want to give his last name, said the alleged murderer's rampage should not be politicized and that Trump's visit would change nothing.
"I don't think this guy did what he did because of the president. I think they're giving too much credit there and there's too much partisanship in that regard," Adam said.
"This has nothing to do with anything but what happened. It's just hate."
Political inspiration for violence?
Police say the shooter told them he hated Jews because they were "committing genocide to his people." Social media posts attributed to Bowers indicate he is also virulently anti-immigrant and anti-Muslim.
He also reportedly referred to a group of several thousand impoverished Central American migrants that is currently attempting to walk north to the United States.
Trump has made fear of the migrant caravan a key talking point in his raucous election rallies where he accuses Democratic opponents of seeking to let in "rapists" and "vicious" criminals.
Critics of the president also blame his rhetoric for providing encouragement to a Florida man who was arrested last week on charges of mailing homemade bombs to more than a dozen senior politicians and others opposing Trump.
The suspect, 56-year-old Cesar Altieri Sayoc, is an ardent online supporter of Trump's "Make America Great Again" campaign rallies, where the president gets the crowd to boo at the mention of his political opponents and media outlets like CNN. Sayoc was also to appear in court on Monday.
However, Trump adviser Kellyanne Conway defended Trump on Fox television, which is mostly uncritical of the controversial president.
"This president is asking us to rise above it and come together and unify as a nation," she said. "Anybody who is saying he isn't, isn't listening."