US child migrants: Trump administration says 1,800 reunited
AMERICA
By BBC | July 27th 2018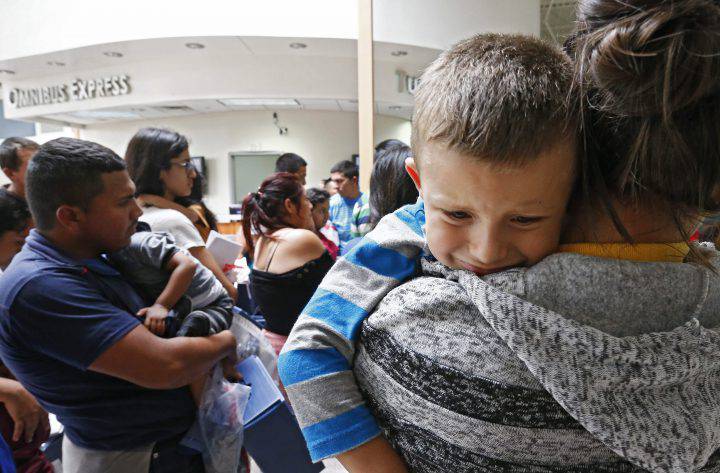 The Trump administration says it has reunited more than 1,800 migrant children with family members by a court-ordered deadline.
This includes 1,442 children back with their parents in US immigration custody and 378 others released in "appropriate circumstances", says a court filing.
But more than 700 children are not "eligible" to be reunited, including 431 with parents no longer in the US.
Officials separated more than 2,500 children from undocumented adults.
The government instituted the policy in a "zero tolerance" crackdown on illegal immigration at the border with Mexico earlier this year.
But it was suspended by President Donald Trump last month after a fierce backlash.
What do we know about the children?
The majority of the children were reunified with their parents in US Immigration and Customs Enforcement (ICE) custody, and 378 others were released in "appropriate circumstances".
This covers those reunited with parents who were already out of government custody, those sent to another relative or family friend, and those who are now over the age of 18.
Of the 711 deemed ineligible, 120 children's parents had "waived reunification", the government said on Thursday evening.
Dozens more remain separated because of "adult red flag", referring to situations in which the child might be at risk.
Why have the families been reunited?
A court order imposed a deadline on the Trump administration to release all children aged between five and 17.
San Diego federal judge Dana Sabraw ruled last month that all the detained minors separated under the policy should be brought back to their families by 26 July.
"By the court deadline this evening we are on track to reunite all eligible parents within ICE custody," said Chris Meekins of the Department of Health and Human Services on Thursday.
But the American Civil Liberties Union (ACLU), which has sued the government over the policy, said US officials had only met "a self-defined deadline".
ACLU lawyer Lee Gelernt told reporters: "The government shouldn't be proud of the work they're doing in separation. This is a disaster that they created."
EABL profits drop to Sh7.3 billion
has reported a 15 per cent drop in its full year results from Sh8.5 billion to Sh7.3 billion in what the company says is as a result of one-off tax pr