Remains of all missing sailors recovered from US warship
AMERICA
By AFP | August 28th 2017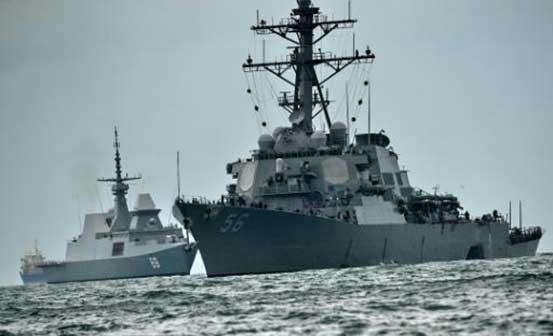 Divers have recovered the remains of all 10 US sailors who went missing after their warship collided with a tanker off Singapore, the US Navy said Monday.
The remaining eight sailors were retrieved by divers searching flooded compartments of the USS John S. McCain, it said, after the discovery of two bodies was announced last week.
The guided-missile destroyer collided with an oil tanker as it headed for a routine stop in the city-state on Monday last week, leaving a gaping hole in the vessel's hull and flooding it with water.
It was the second such deadly accident in two months after a US destroyer collided with a cargo ship off Japan in June, and the fourth accident involving an American warship in the Pacific this year.
The US Navy's Seventh Fleet, to which the warship belonged, said in a statement that "divers have now recovered the remains of all 10 USS John S. McCain sailors".
The sailors were aged between 20 and 39.
The collision sparked a multinational search and rescue operation off Singapore but it was called off after several days, and authorities shifted their focus to flooded parts of the ship.
The accident prompted the navy to begin a global investigation and remove the commander of the Japan-headquartered Seventh Fleet, the centre-piece of the US military presence in Asia.
To fight drought, involve communities
According to the latest information from the Meteorological Department, rainfall will be poorly distributed in April, May and June, and this will have a serious impact on agriculture